News
Osage County DA says not enough evidence to file charges against Dennis Rader in Cynthia Kinney case
PAWNEE, Okla. (KAKE) - Mike Fisher, Osage and Pawnee Counties District Attorney, says there is insufficient evidence to file criminal charges against Dennis Rader and he is asking the Oklahoma State Bureau of Investigation to step in and open a formal investigation into the disappearance of Cynthia Kinney from 1976. However the Osage County Sheriff's Office says the DA has not reached out to them and therefore his comments are based on incomplete information.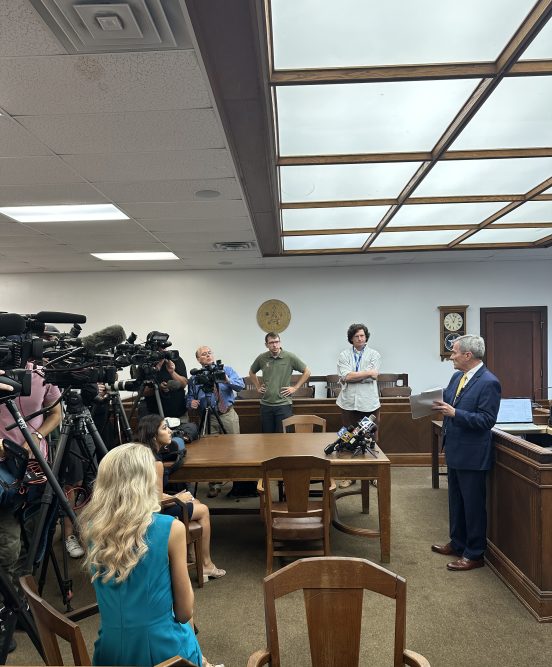 "There are certain ways that an investigation is handled and the things that I have seen give me pause and concern," says Fisher in a press conference with multiple media outlets from both Kansas and Oklahoma.
He explains that while he appreciates the Osage County Sheriff's Office's enthusiasm for the investigation of the almost fifty year old cold case he's worried with how it is conducting the investigation.
An example of why he's concerned is the dig on Rader's former property in Park City, Kansas that happened last month which he called inappropriate.
"They're outside of their jurisdiction so they'd have to get a search warrant. They told me that they obtained a search warrant and that's why the dig took place. I've not seen that search warrant," Fisher says.
This is why he's asking the Oklahoma State Bureau of Investigation to step in and open a formal investigation into Kinney's disappearance. Saying they are the best investigators in the state of Oklahoma and they have the resources and supplies needed for an investigation like this.
The OSBI has confirmed that they are investigating this.
Fisher says even though the OSBI just began their investigation they do already have one suspect in the case and it's not Rader. However he says based on what he knows this suspect is more likely than Rader to be connected. At this time Rader is not an official suspect in the OSBI investigation.
While not an official suspect in the case Fisher says he believes the OSBI is going to reach out to the OCSO to discuss the details of the case and possibly work together.
"That would certainly be beneficial to all involved if the goal ultimately is to try to identify whether Dennis Rader was involved in this or who exactly was involved with this," says Fisher.
The OCSO says it is willing to work with the OSBI and other law enforcement agencies because their priority is to hopefully solve the case and get closure for Kinney's family as well as the community.
However, Fisher said he doesn't have high hopes this case will get solved because of how long ago it happened.
"It's very difficult to go back and try to recreate evidence and try to test evidence and try to find witnesses and I just don't know if it's possible," Fisher said while explaining why he doesn't necessarily think the case will be solved.
In response to this the OCSO says, "It is important to note that District Attorney Mike Fisher has not reached out to the OCSO to discuss the details or developments of this investigation. Therefore, his comments regarding the case are based on incomplete information and do not accurately represent the Osage County Sheriff Office's efforts or progress made."
Fisher said Monday he reached out to Sheriff Virden through the undersheriff asking if they could communicate on the case, but Fisher said the sheriff  has been reluctant on it. Fisher adds the relationship between him and Sheriff Virden is strained. He did not elaborate on why, but says that both parties are responsible for the strained relationship.
Meanwhile, Fisher says because the OSBI is in an ongoing investigation he is not revealing a lot of information on their possible lead. However, he did mention that because this happened almost fifty years ago the suspect is now dead.