News
2020 WPD COLD CASE: Investigators stuck on Valincio Hill's death, cite lack of cooperation
Thursday, May 18th 2023, 9:20 PM CDT
It's a case investigators say could easily be solved, but it's not.

Individuals who know the truth about what took place on September 13th, 2020 simply won't cooperate and the investigation is leaving investigators and a Wichita family with more questions than answers.
"It's a case that we have done everything that we can do on and there is nothing else that we can do. So where else do you turn? You want to turn to the public. People who might have information on this because you are at a point where you are stuck," Sgt. Ryan Schomaker with the Wichita Police Department said. 
Nestled under a shady tree at a local cemetery rests a son, brother, and friend, taken too soon.

Seventeen-year-old Valincio Hill should have graduated high school and should have grown older, but gun violence made every decision after September 13, 2020, for him.

"Just to see that heartbreak years later… is very sad," Sgt. Ryan Schomaker, who is the lead detective investigating Hill's death said. 
Reminders of missed holidays are recognized as decorations rest tangled in between both fresh and fake flowers that embellish Hill's grave.

His mother certainly makes her heartbreak known as she protects a resting place like his.

Off-camera, Valincio's mother emotionally described her son as a great kid, a great student, and the perfect son. She said she wishes this incident would have never happened and she misses him every day.

It's a heartbreak that'll never fade, but Sgt. Schomaker with the Wichita Police Department wants to make it clear that he's going to continue to fight for her son.

"That's one of the things that I promise every family after I worked a homicide is that I will do everything that I can, that's within my power, to try and solve this case," he added.
When asked what makes this cold case stand out among the rest that Sgt. Schomaker is investigating, he starts by describing Valincio - the victim. 

"I think first of all… you look at the victim. A 17-year-old young man, by all accounts a very nice young man had a bright future and then just due to the solvability. If people would come forward on this and tell us what they knew... I think there is a strong probability that we would be able to solve this case," he shared with KAKE News. "A young man with a promising future lost his life over a petty argument and it's extremely unfortunate. He was a son. He was a brother. He was all of those things. There are better ways to handle that type of situation and it's not by shooting somebody...  or shooting at somebody."

Just after 8:30 p.m. on what should have been a typical September Sunday night in 2020, officers responded to a home in the 1600 block of South Water for a report of a shooting. Upon arrival, officers located 17-year-old Valincio Hill and an injured woman in her 40s. Both had been shot and were taken to a local hospital for treatment. Valincio lost his life. The female would later be ok.

"The investigation revealed several individuals were at the home on Water, including Hill and the female victim. Unknown suspects approached the home on foot and fired multiple shots from the street, striking the victims and surrounding property," a WPD media release dated September 14th said. 

"Two males walked up to the residence," Sgt. Schomaker said. "... and confronted a group of people standing out on the front porch. One of which was Valincio Hill, a victim in this case. The two proceeded the shoot towards the individuals on the front porch striking Valincio which he later died approximately 30 minutes later."
Nearly two and a half years later, the home on S Water has parts of it boarded up. 

Below are photos of the suspect vehicle that Detective Schomaker shared with KAKE News.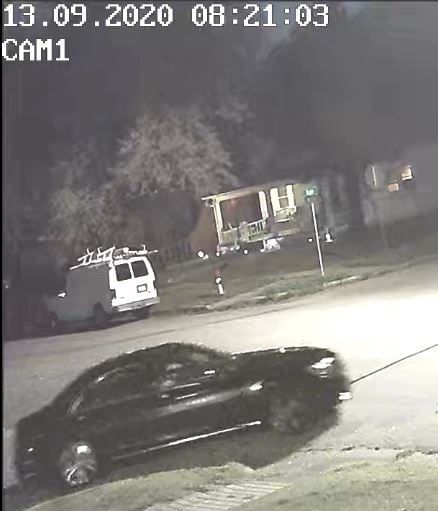 "We strongly believe that the vehicle that the two suspects arrived and left in is between a 2015-2018 S-Class Mercedes. It's a black color 4-door. It's kind of unique, I believe because it's got the Mercedes emblem on the front," Sgt. Schomaker said.

If you know who owned the car around the time of the crime or who was maybe driving it, please alert investigators.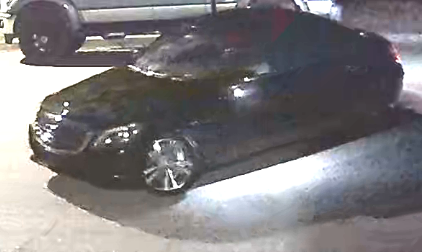 Detective Schomaker says those individuals were looking for someone who was on the front porch… but it wasn't Valincio Hill.

"I don't think Valincio was the intended target. Just looking at his past, his history, interviewing multiple friends and acquaintances of his, plus looking through his phone, he did not appear to have anybody that had any grudges against him or any reason that somebody would want to kill him," Sgt. Schomaker said. 

The WPD media release mentioned above states: "This was not a random incident, and a lack of all cooperation in this investigation has affected investigators from learning all the details of this case."

Det. Schomaker says who they believe to be a target that night hasn't been very cooperative. 
"....that individual has not been very cooperative with our investigation," he added.

It's unclear why this shooting happened, but at the end of the day, a West High student-athlete died in the middle of it.

"A lot of rage.... a lot of anger... a lot of love though too. We have a resilient group here. They are trying their best to take care of one another and take care of themselves," in 2020, West High Basketball Coach Tommy Brumbelow remembered his former player shortly after V. Hill's passing.  "His smile would just make you think everything was great and then he was strong. So hopefully our guys remember that part of him and want to continue what he was trying to do for himself."

"I know there's people out there who know this information," Sgt. Schomaker added.

Detective Schomaker believes the "no snitching culture" out there is part of why no one is coming forward.

He says no arrests have been made in this case. He also says everything that could be done to solve this case has been done and says detectives need individuals who know something about this case to speak up.
Investigators say they have a few names in mind who they suspect played a role in what happened that night.
 "We definitely have a good idea," he said. 
Det. Schomaker cites the lack of cooperation as hindering an arrest or arrests from being made. They especially need help from the person who investigators believe was the target that night. 
"No justice has been done for that young man and his family… so it's a very bad feeling," he added.
The investigation is still ongoing.
If you have any details on this case you are asked to call the See Something Say Something hotline at (316) 519-2282 or Crime Stoppers at (316) 267-2111.