News
Mother searches for shoes to fit her son's size 23 feet
Even though she wants to provide everything her child needs, she is struggling with buying shoes. She is desperately searching for someone who can make shoes in that size at an affordable price. 
"At 14, he's still growing," she said. "Most kids this big and tall at this age have an endocrine disorder and he does not. He has no health issues with exponential growth."
Eric does have health issues related to not being able to find shoes that fit, though. He suffers from ingrown toenails, so much so that he's had the nails on his two largest toes permanently removed.
He also sprained his ankle this fall while playing on the junior varsity football team, which may have been avoidable if he'd had cleats instead of just sneakers.
Eric has not had cleats, nor snow boots for Michigan winters, for five years.
"It would mean everything just to have shoes that fit me," Eric said.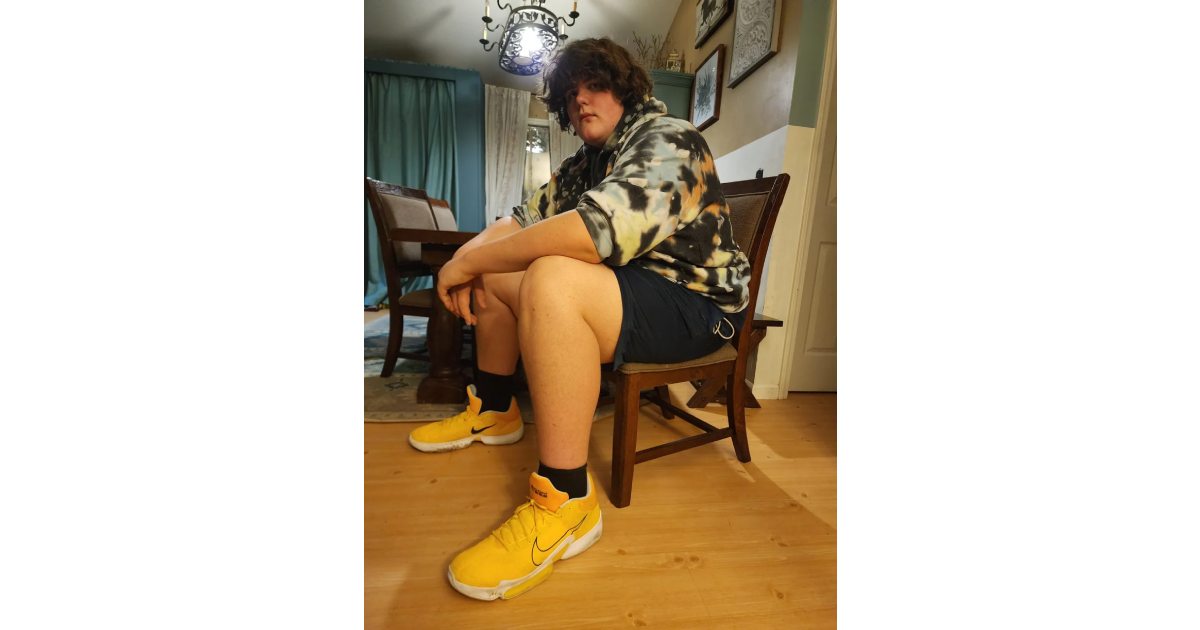 Resorting to Crocs
When Eric was born, the obstetrician who delivered him said their son had the biggest feet he'd ever seen on a newborn, Rebecca said. He told the young couple that their child's feet wouldn't fit into baby shoes. 
Still, Rebecca, who stands 6-2, and Eric Sr., who is 6-5, never thought that those large feet would be as much trouble as they've turned out to be years later.  
When Eric Jr. was in first grade, his mother, who wears a woman's size 12, could already slip her son's shoes on to go to the mailbox. By the time he was in seventh grade, the size of his feet had become a serious issue at a bewildering size 17. His mother began recruiting close friends to be on the lookout for shoes that would fit him then, and even larger sizes for when his feet grew larger.   
Eric spent the next two years wearing nothing but Crocs.
He is currently wearing a  size 22 sneakers that don't fit, found by a friend at a Nike outlet. At the time, Rebecca arranged to also purchase six other pairs in the same size from the outlet at the bargain price of $25 per pair. All are now too small.
'We don't make that size'
Rebecca has spent countless hours in the past year searching the internet and calling shoe companies including Nike, Reebok, Adidas, Under Armour and Red Wing Shoes as well as independent cobblers in anticipation of the next needed size.
When Rebecca explains the shoe size she needs, she has been met with disbelief and laughter. And a consistent chorus of "We don't make that size."
Rebecca said she has spoken with a Nike representative. She was told, "The only way you have a size 22 is if it was made for a pro athlete and they didn't use them and it ended up back in circulation."
Hometown Life, part of the USA TODAY Network, reached out to Nike on Thursday, and a media representative chuckled when told a customer was looking for size 23 shoes. The company did not immediately respond to a request for comment.
A Nike representative told Rebecca the only way the company would likely make her son shoes is if he became a professional athlete. Eric dreams of playing in the NFL. But Rebecca wonders how that could even be possible when she can't get Eric, who would like to play basketball in addition to football, the proper gear to play high school sports.
Size 22, also the size shoe famed basketball player Shaquille O'Neal wears, is the largest size she has found any professional athlete to wear, meaning her son has outpaced even Shaq.
Eric's size 22s have been professionally stretched, but they are now hurting him and resulting in blisters. He needs at least a size 23, and possibly even a size 24.
Eric enjoys being tall, but he can't fit into a normal seat on an airplane, and trying to enjoy an amusement park ride is nearly impossible due to his size. 
"He is a wonderful kid and handles it well, but being tall and standing out is not always a blessing," Rebecca said.
Nor is having shoes that don't fit.
"It's frustrating as his mom and not being able to find shoes, which is such a basic need. I can't find shoes for my teenager. What can I do when his feet grow?" she said.
Eric is having some fun with the awkward circumstances, vying for the title of teenager with the largest feet and hands after submitting an application to the Guinness Book of World Records.
"I think my chances are pretty solid," Eric deadpanned.
The current record appears to be held by Lars Motza, a German who was 16-years-old in 2018 when his feet were measured at around 35 centimeters each, putting him in size US 21 shoes (UK 20).
The world record-breaking attempt is part of an effort by the family to raise awareness of their unique conundrum and find someone willing to make Eric footwear at an affordable cost.
"It's a dream for him to have shoes, boots and cleats," Rebecca said. "That would be wonderful … . It's a weight on my heart as a mom to not find such a basic need."