News
Crash on Kansas Turnpike leaves three injured and dozens stranded for hours
WICHITA, Kan. (KAKE)- The Kansas Turnpike Authority says a crash occurred around 9:30 a.m. Wednesday morning in the south-bound lanes on I-35 near mile marker 29 leaving three people injured.
The Kansas Highway Patrol reports that a semi truck drifted into an area of the road that is closed off. The semi hit the barrier and then hit a transit vehicle with two people inside. Both the driver of the vehicle and the two people hit are in the hospital with serious injuries.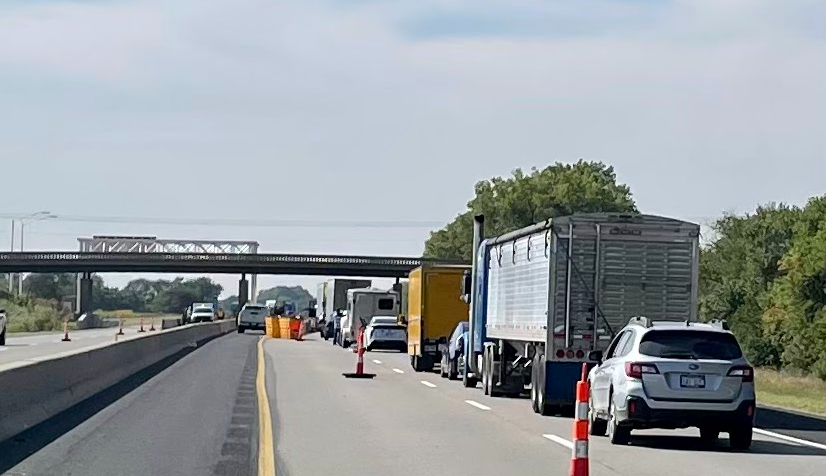 While emergency crews worked to clear the scene and redirect traffic approximately 100 vehicles were stuck in standstill traffic on the turnpike for multiple hours while they waited for authorities to investigate and reset traffic.
One of these people was Tron Rollins. He is a truck driver for Amazon and says it started out as any other work day. He picked up his orders from Park City around 8:30 a.m. and was hitting the road when he was suddenly stopped.
"I guess by like nine o'clock I noticed brake lights in front of me and was like what's going on? At 9:15 I was stuck and we finally got going just a little bit before one," he said.
Rollins says this put him behind on his schedule for the rest of the day.
"I gotta head down to Dallas to drop off my Amazon load so hopefully it's not to late. They'll get there stuff but it won't be on time," he says while hurrying to load up his car and get driving in an attempt to get back on track.
While South Bound lanes past the Kansas Star Casino were closed for hours, cars were being redirected to get off at the Casino's exit. Lanes were closed for approximately three hours until they were reopened around 12:30 p.m. Wednesday afternoon. The KTA said to have patience as it would take a while for traffic to get moving again but now traffic should be flowing as usual.
The KTA originally said construction workers were injured in the crash but the KHP crash log didn't say that. We have reached out to both parties for clarification.