News
Man charged in Mizzou hazing case takes plea deal
COLUMBIA, Mo. (KOMU) -- Thomas Shultz, one of the men charged in connection to Missouri's Phi Gamma Delta hazing case from October 2021 involving Danny Santulli, pleaded guilty Monday to a single misdemeanor of supplying alcohol to a minor.
Shultz, as part of a plea deal, had been sentenced by Judge Jeff Harris to 30 days of shock detention, a boot camp-style program, in jail commencing immediately.
Additionally, Shultz will spend a year on probation where he can not consume alcohol or enter an establishment primarily selling alcohol, as well as must complete 100 hours of community service and an in-person alcohol and drug education program.
Shultz will also receive a one-year jail sentence if he does not comply with the probation. The probation additionally mentioned Shultz would eventually undergo restorative justice mediation with the Santulli family.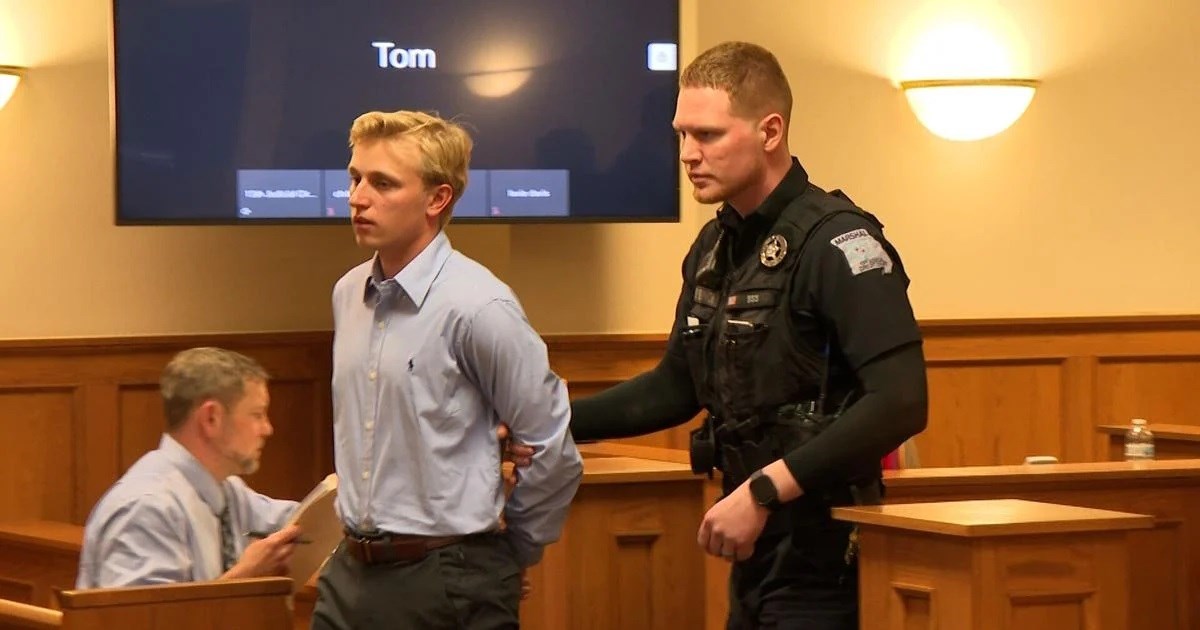 This is the first sentence given following the incident at Phi Gamma Delta's "pledge father reveal" that left then-MU student Santulli unable to walk, talk or see following brain damage from alcohol poisoning that night.
Surveillance footage from the fraternity commonly known as "FIJI" showed Santulli participating in hazing tactics during the party that would leave him unconscious with a blood alcohol content of .486, six times greater than the legal limit to drive.
Santulli's aunt, Chrissy Prioleau, spoke via Zoom to address the courthouse and Shultz on Monday.
"Thomas Shultz is personally responsible for what happened to Danny that evening," Prioleau said in an impact statement. "Thomas Shultz was the acting vice president of the fraternity that played a first-hand role to what happened to Danny that evening."
Last July, Shultz pleaded not guilty to the felony hazing charge and posted a $50,000 bond.
"He [Shultz] should be grateful because Danny is alive and not dead, and he is not facing murder charges," Prioleau said. "Thomas Schultz is a hundred percent involved and responsible for the state Danny is in right now."
Samuel Lane, the chapter's former president, will face a jury starting at the end of next month, and the same for Ryan Delanty, Santulli's "pledge father," in December.
The-CNN-Wire
™ & © 2023 Cable News Network, Inc., a Warner Bros. Discovery Company. All rights reserved.