News
2 arrested after Salina police find 5,000 pills they believe contain fentanyl
Saline County Sheriff's Office
SALINA, Kan. (KAKE) - A man and woman have been arrested after police find drugs, guns and stolen property while serving a search warrant.
The Salina Police Department said that officers were dispatched to serve a search warrant on 827 Mike Drive on Tuesday. During the search they found over 5,000 pills they suspect are fake oxycodone that contain fentanyl, half an ounce of methamphetamine, two pistols with bullets and what police believe to be stolen property.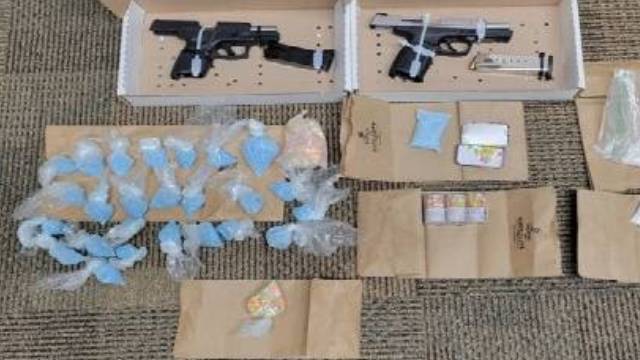 Authorities arrested 36-year-old Gregory James Walburn and 28-year-old Chelsea Walburn at the scene and are requesting they be charged with:
Six counts of aggravated endangering a child
Distribution of opiates
Possession of opiates
Two counts of Kansas tax stamp violation
Possession of methamphetamine
Distribution of methamphetamine
Criminal possession of a firearm
Possession of stolen property
Chelsea Walburn may also be charged with bribery.
The investigation is ongoing. If you have any information regarding this case, police ask you  call Crimestoppers at 825-TIPS. You can also make an online tip at: https://www.p3tips.com/tipform.aspx?ID=950#. You could receive a cash reward of up to $1,000. Tipsters may also contact the Salina Police Department at 785-826-7210, or Det. Randy Constantino, case 2023-9289.