News
Severe Weather Preparedness Week 2023
Thursday, March 9th 2023, 6:22 AM CST
This week, the KAKE First Alert Weather Team wants to make sure you are aware and prepared for severe weather as the season approaches with tips and tricks to keep you and your family safe. 
FRIDAY: Flooding and Rescue
On this final day of severe weather preparedness week, we visit with first responders who are often called in weather emergencies. Sedgwick County is home to rescuers trained for high and swift waters as well as building collapses.
 THURSDAY: Wind, Hail, and Lightning
So far this week we have mainly focused on tornadoes. But, hail, wind, and lightning are the most common weather events we see and can be just as dangerous. A Severe Thunderstorm Warning is issued solely focusing on wind and hail- when sustained winds are at or above 58 mph and hail of at least an inch in diameter is possible. If you have the KAKE First Alert Weather app then you will receive a notification if you are in an area under a Severe Thunderstorm Warning. You should go indoors while this storm passes, but it is not necessary to be in your safe space unless that transitions into a Tornado Warning.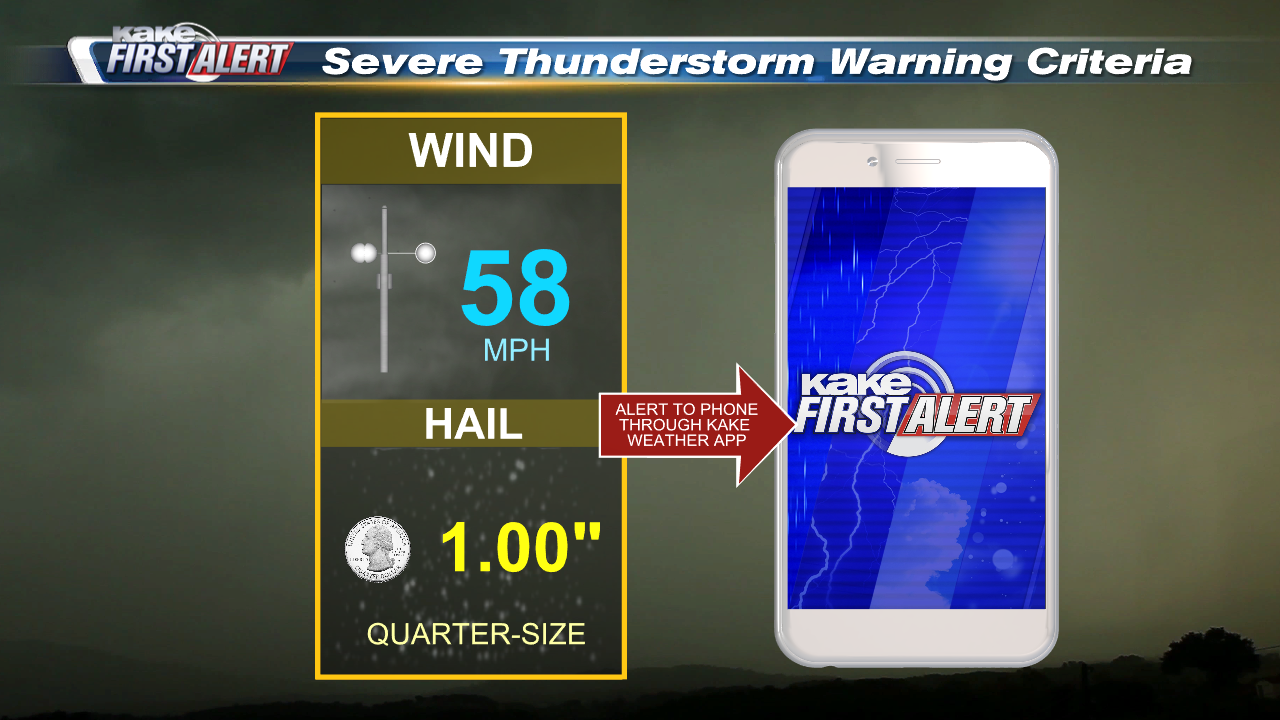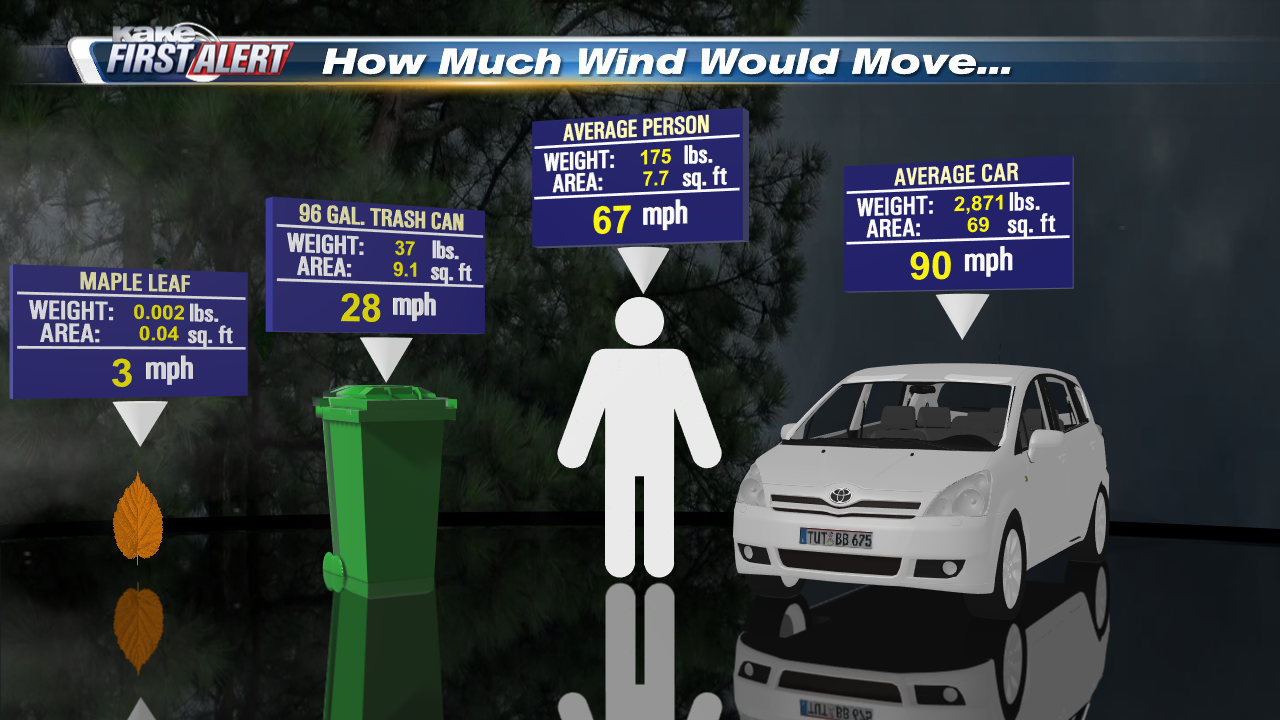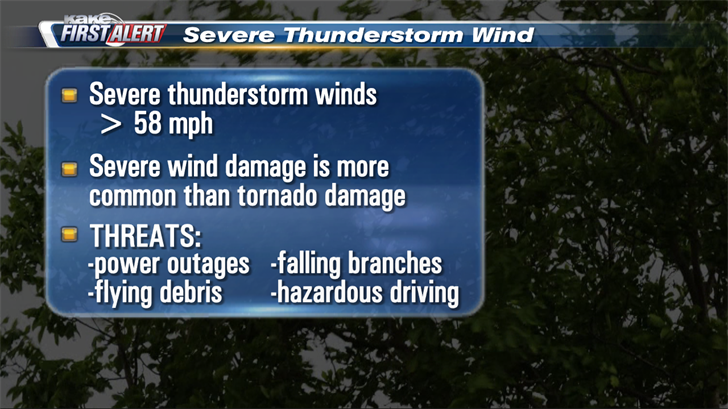 Quarter-sized hail is just the minimum criteria for severe level but hail can grow much larger than that and the impact will increase significantly. Hail could grow as large as 7.75" as it did back in 2010. A hailstone that fell right here in Wichita, around 119th and Pawnee, set the state record for largest hailstone to date! 
Severe-level winds can be at times just as damaging as a tornado. It is not uncommon for us across KAKEland to see wind gusts as high as 80 mph within Severe Thunderstorms which can cause significant damage.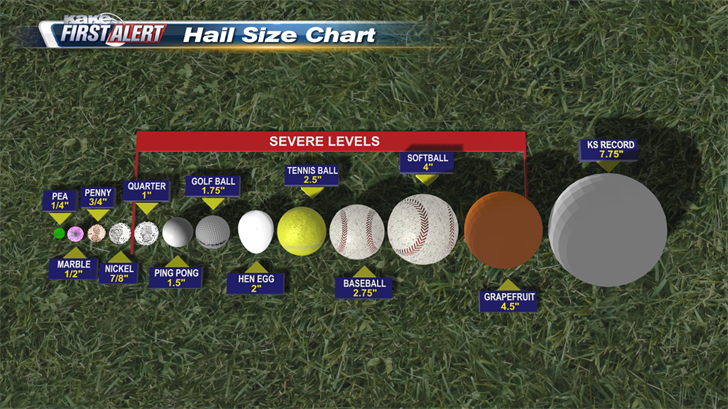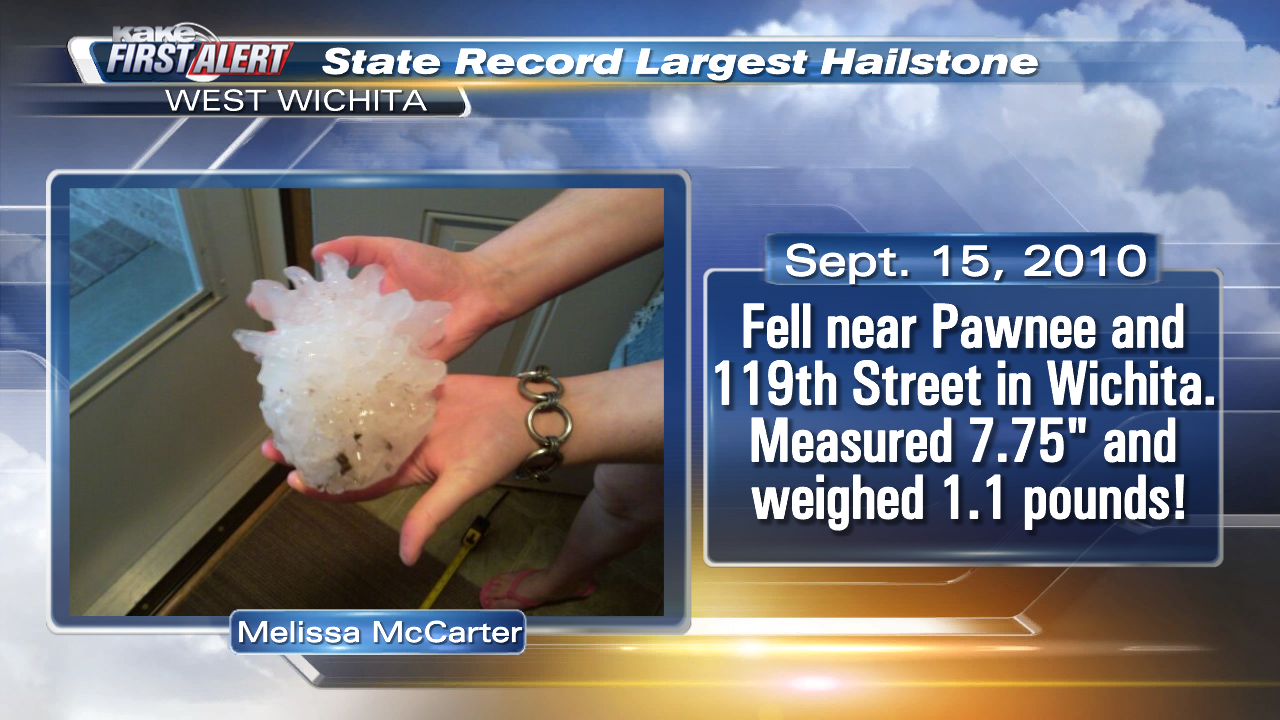 Although lightning is not a criteria for Severe Thunderstorm warnings, it should still be taken just as seriously. On average, lightning kills around 30 people a year in the United States. In a crazy coincidence, last May three people were struck by lightning in Wichita alone within hours of each other. All 3 victims survived. If you hear thunder, you are close enough to be struck by lightning and should be moving indoors. A car is a safe place to shelter from lightning, but a home or enclosed building is your best option.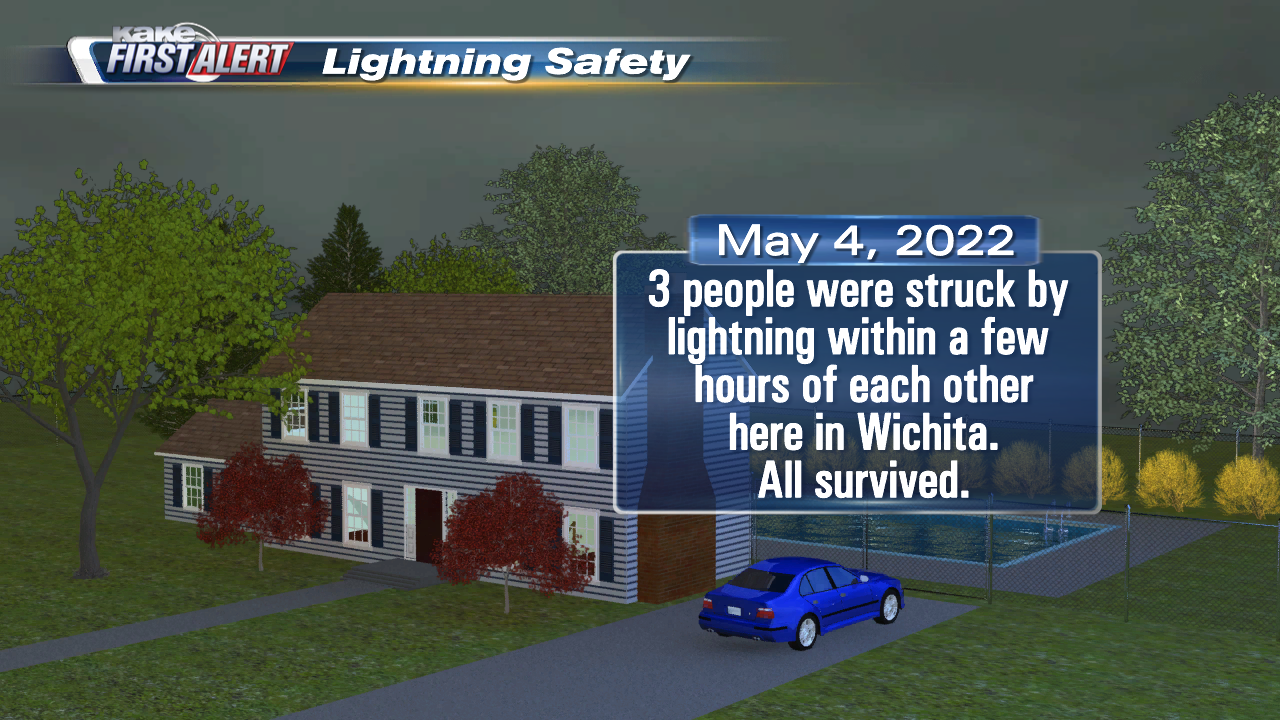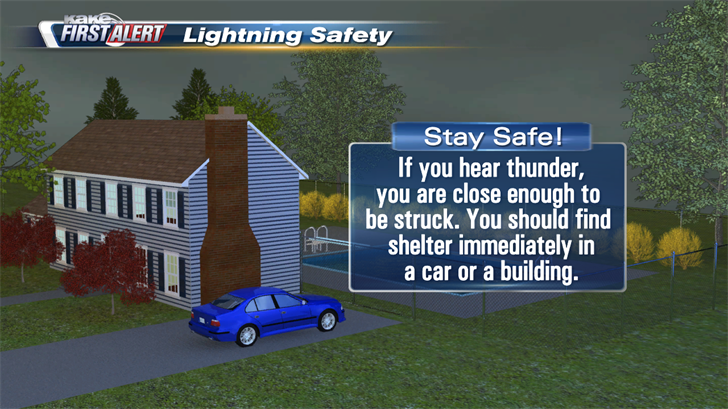 WEDNESDAY: Watch vs. Warning
What is the difference between a Severe Thunderstorm or Tornado watch and warning? That may be a question you have. It is important to know the difference between the two and know what action steps to take in each situation. 
To make it easier to understand, we put together a graphic using bread instead of tornadoes. A bread watch would mean the ingredients are present, you have gone to the store and purchased everything you need, but you do not have a loaf of bread yet. However, at any time you could put them all together and make bread. A bread warning means you have combined all of the ingredients and a loaf of bread has been produced. Now is the time to take action! In bread terms that would mean slicing it up and spreading some butter on to enjoy.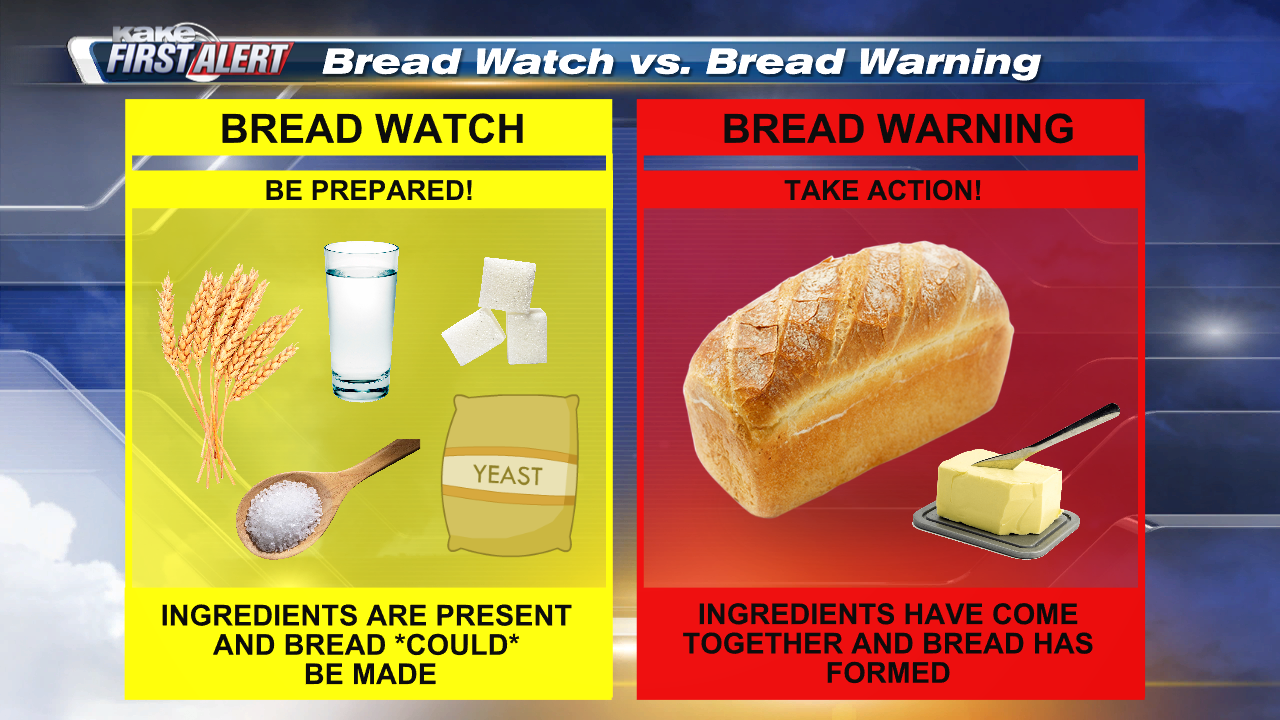 Similarly, when a tornado watch is issued, we can see that all of the ingredients are present in the atmosphere and they COULD come together to form a tornado. This is your time to be prepared- think about your plans for the day, how they may need to change, and what you will do if a tornado warning is issued for your location. Once that tornado warning goes into effect, ingredients HAVE come together and there is now a physical threat to you. We have either a radar indicated tornado or have visual of one on ground. Now is the time to take action! You should be getting in your safe space and remaining there until the tornado warning is lifted or expired.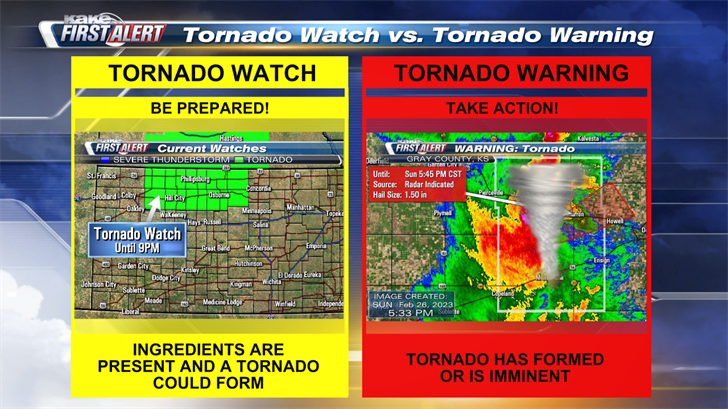 Meteorologist Cameron Venable explains this difference in another way in this video.  You can also find other informational videos on severe weather preparedness using that link to the KAKE Weather guide.
A statewide tornado drill will take place today, Tuesday March 7th, at 10 am and will last a total of 5 minutes. Sirens will sound and practice push alerts will go out from the KAKE First Alert Weather app. This is a great time to practice your plan of where you will go and what you will take in the case of a tornado emergency. If 10 am rolls around and you do not receive any push alerts or hear sirens, now is the time to troubleshoot and figure out why you did not receive those. You can go back to my video below to turn on notifications in our weather app. 
Now that you know how to receive warnings along with how to prepare ahead of time, lets talk about specific severe weather types and the safety measures to take. Today is all about tornado warnings and tornado safety. Meteorologists have the ability to forecast severe weather several days in advance. Of course details become more clear as the event day gets closer, but typically you will have at least a days notice. This is your time to think through what you will do and where you will go in the case of a tornado. 
So where do you go? The best place to shelter, if available, is a basement or a storm shelter/cellar. If that is not an option, you want to find the most inner room in your house. A room with no windows, no doors to the outside, essentially put as many walls between you and the outside as possible. In some cases, those that live in mobile homes or less secure structures, leaving your home to find a more secure structure is the best option. That could be a neighbors home or a local public tornado shelter. Knowing where you will go well ahead of time is necessary and could be life saving- establish that location now.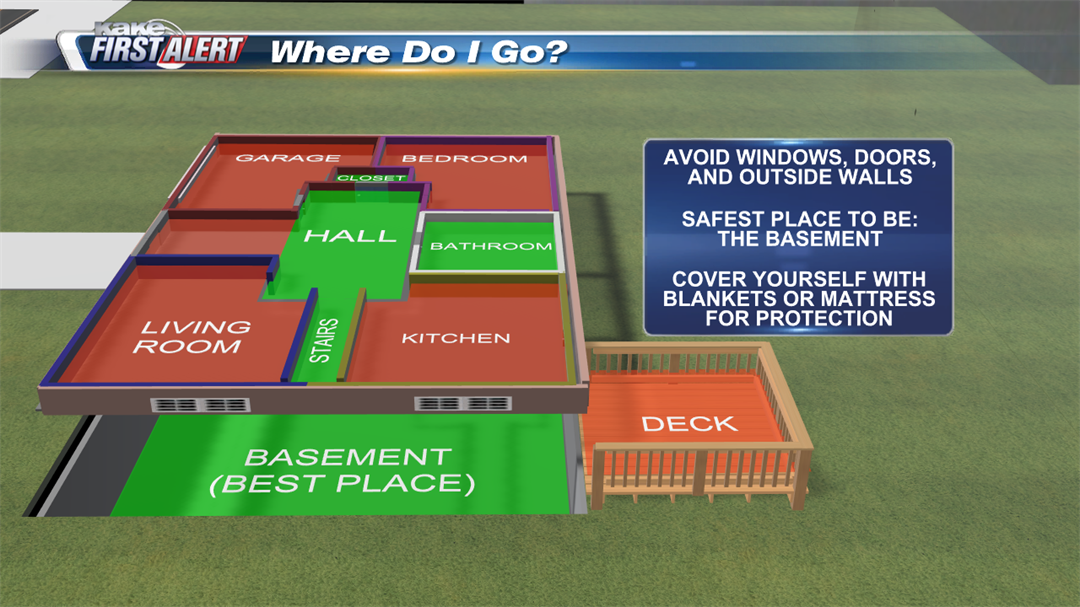 Once inside your safe space, you want to cover your head with blankets, pillows, mattresses, or even by putting on a helmet. It is also a good idea to put on shoes in the rare case that your home is destroyed and you need to climb through debris to safety. It is a good idea to keep extra shoes with your safety kit in your safe location. This safety kit should be put together BEFORE it is time to find your safe place and should include some of the following: a weather radio with extra batteries, food and water, a flashlight, protective wear, and something fun to keep kids entertained in case you have to spend a long period of time in shelter. Again, this kit can and should be assembled ahead of time and kept in your safe place ready for use.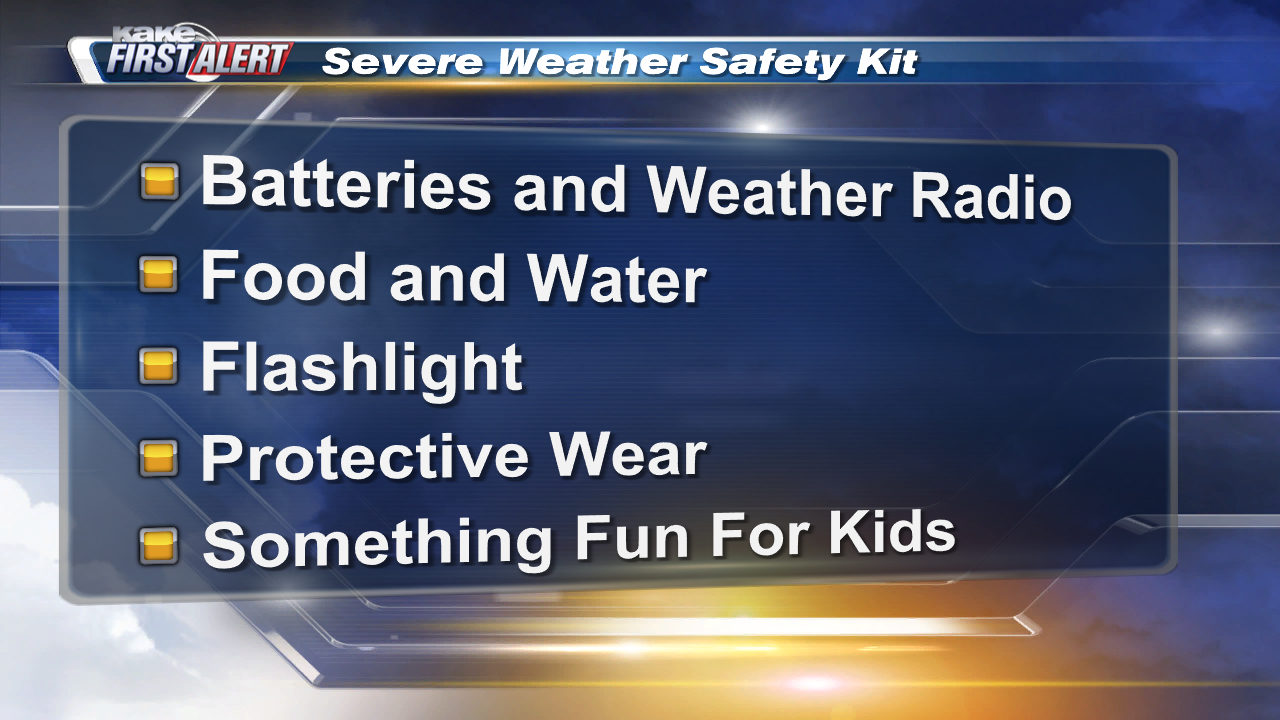 If, in the rare case, you find yourself in your car in a tornado warning, it is best to try to drive to the closest shelter or building. If that is not possible, remain in your car, hunker down and cover your head. 
Monday is all about making sure you are prepared well before there is imminent threat to you and your family. Preparation can take place right now and can look like having multiple ways to receive weather alerts, having a plan for shelter, practicing your plan, and preparing your home. 
The first step you can take right now is to make sure you have at least two ways to receive weather alerts. This could be a TV, a weather radio, and a smart phone with the KAKE First Alert Weather app. It is important to have multiple ways to receive alerts in case you are without power or your device is dead. Make sure to change your batteries to your weather radio at this time to ensure it lasts through the season. Outdoor warning systems are great to use but they are meant to ONLY be for outdoor alerting. They are not meant to be heard indoors but to alert you if you are outdoors to move inside. It should not be your only source of notification. 
Next you want to make sure your alerts are turned on in your KAKE weather app through your smart phone. I have made a short video explaining how to do so below. You will go into settings on the app to do so. This will ensure you are alerted when storms are headed your way as well as make sure the alert sounds out loud to notify you. 
Another action step you can take now is to come up with your tornado drill plan with you family. This includes communicating on what room you will shelter in, how you will get there, what you will take, and who all will shelter with you. It is good to prepare the room you choose to shelter in by keeping an emergency kit in the room. This should include batteries and a NOAA weather radio, water, food, flashlight, and a first aid kit. It is also a good idea to keep helmets in the room you will shelter in, as well as extra pairs of shoes in case you need to walk through debris after a tornado passes. Again, now is the time to prepare this so you are not panicking when the time comes to take shelter.