News
February weather recap
February was the least snowy and warmest February since 2017! Wichita picked up only a trace of snow and afternoon highs averaged 4 degrees above normal.
Another mild month for us for the 2nd time this year. A total of 18 afternoons had highs above average for this time of year, with only 7 days below average. In a weird coincidence, every single Sunday, Monday, and Tuesday of the month was above average with highs in the 50s and 60s. We still have yet to see the 70s this year, but March might be our time.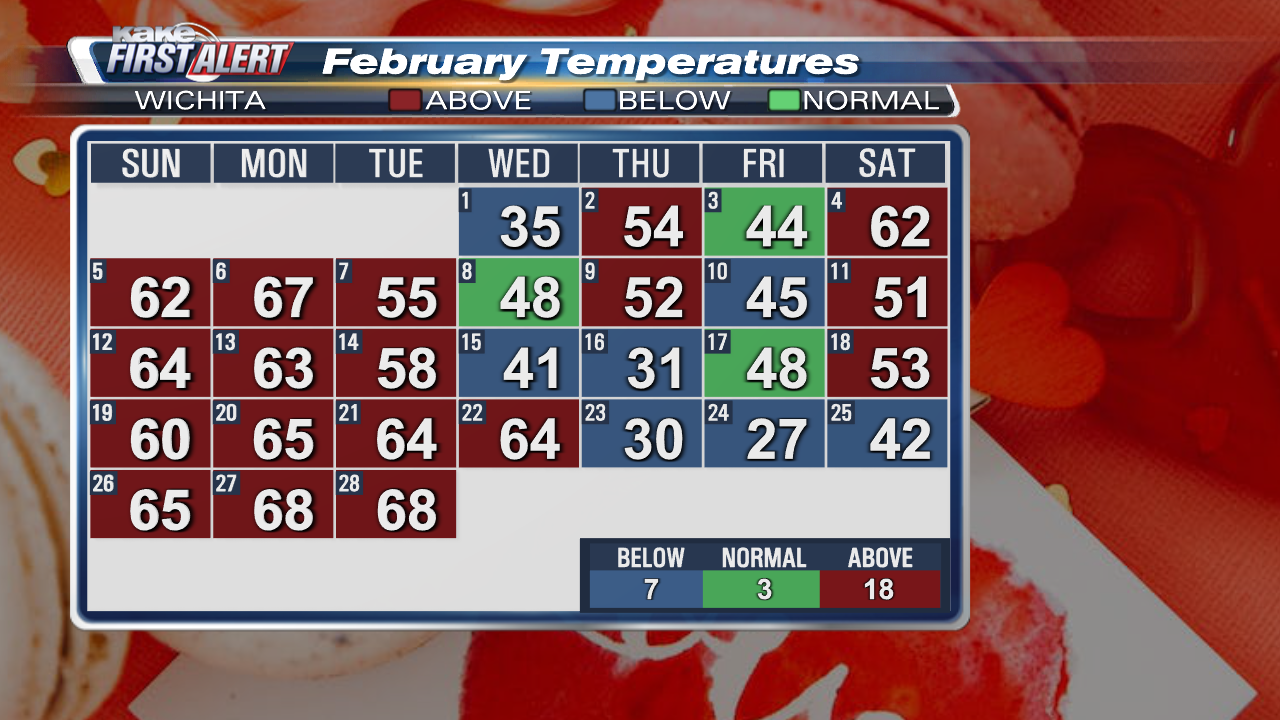 This has not been the first month of above-average highs. So far, the entire year has averaged above normal. February ended up being slightly warmer than January with an average afternoon high of 53 degrees! That is 4 degrees warmer than average. 
So will this mild trend continue? We will leave a question mark there. Not a super clear picture on how temperatures will trend heading into March. It looks like the first two weeks of the month may be a bit cooler than what we have seen, but the 2nd half of the month could rebound, leaving us evened out. 
Along with being warm, it was also rather snow-less for us across KAKEland. In fact, Wichita saw the least snowiest February since 2017 with only a trace recorded for the month. Thankfully, it wasn't all dry, we picked up a decent amount of moisture in the form of rain. Wichita totaled to an inch and a quarter of rain for the month, just slightly above average in terms of rainfall for February.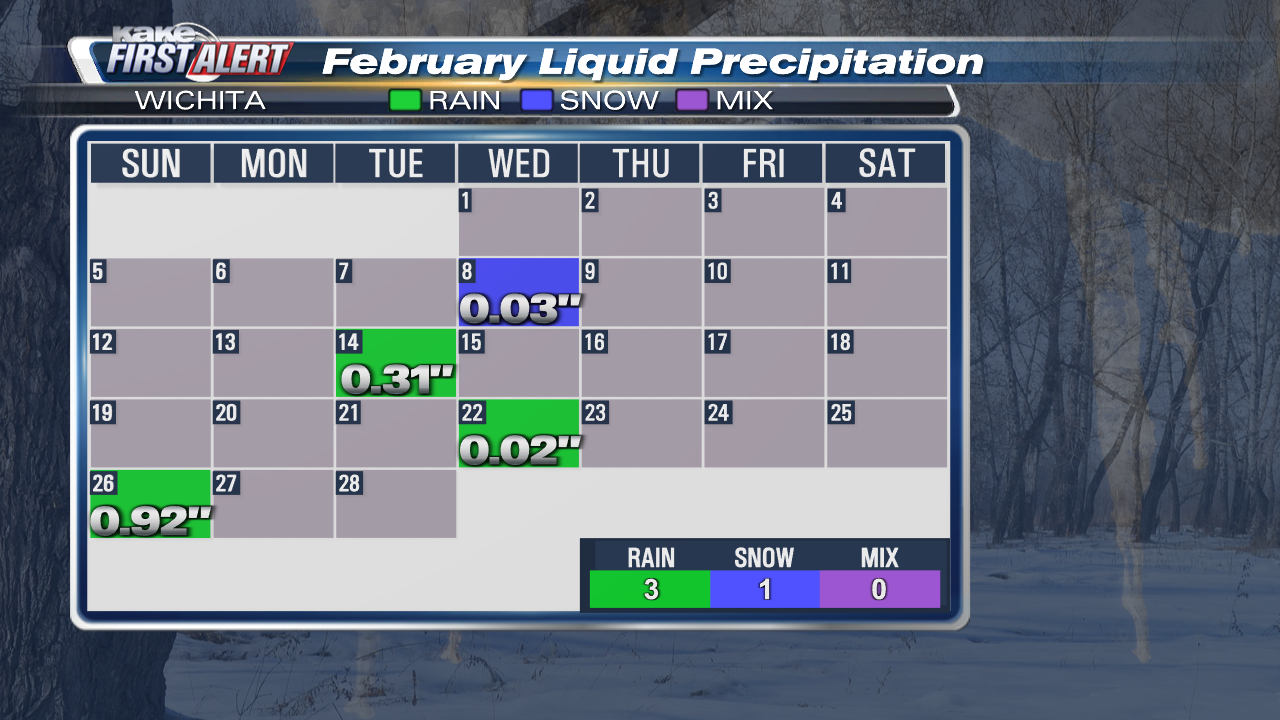 Typically, February is the month that KAKEland picks up the most snow. That was far from the truth for most of us. All but far northwest KAKEland experienced a snow deficit of at least an inch and a half. Goodland receiving a whopping 9.3" put them over their normal for the month.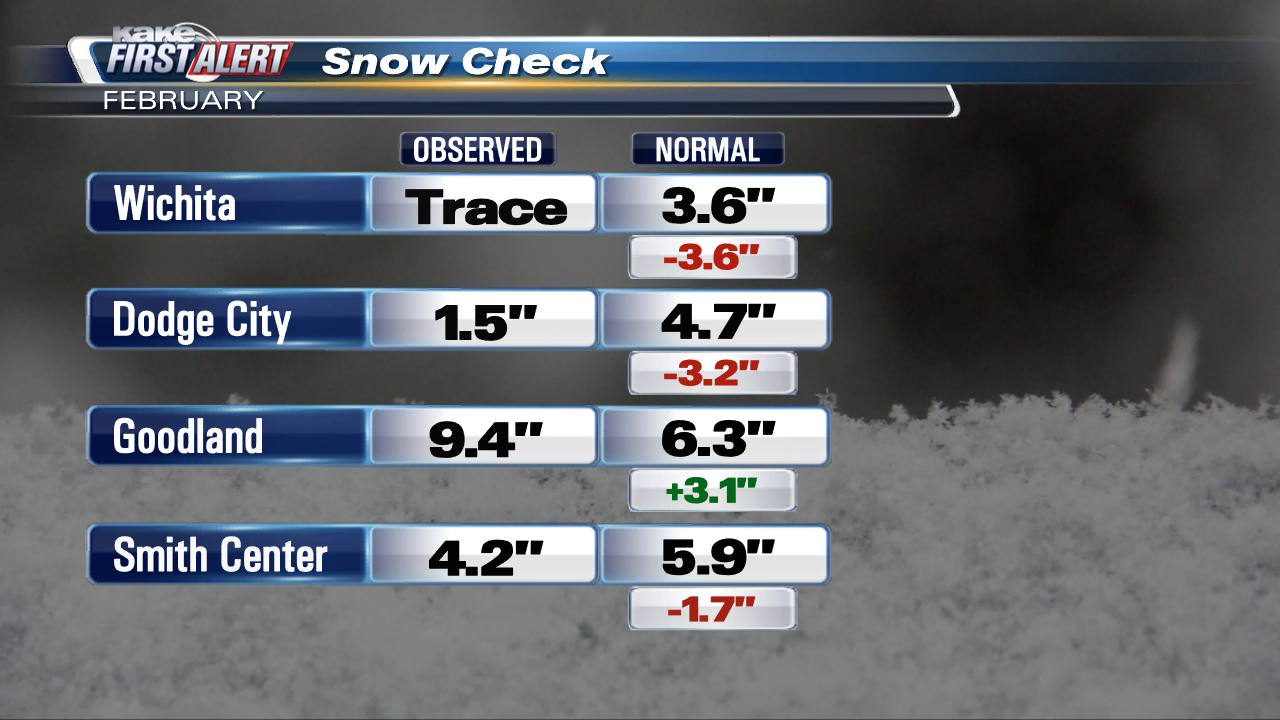 Our precipitation outlook for March is also relatively unclear. The western half of the US is expected an above average amount of precip along with the Ohio Valley. However, the rest of the US has equal chances of above or below normal precipitation. We will have to watch week by week to see how the month plays out.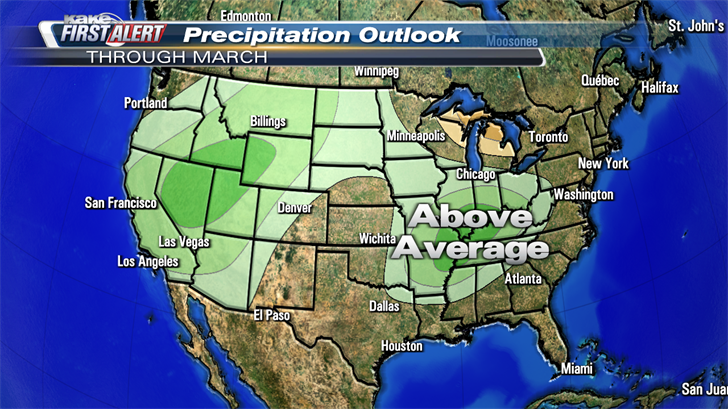 As always, we'll keep you up to date with our Interactive Radar and LIVE weather coverage. Get those features and more on the free First Alert Weather App. With the app you can track storms in your area, stream the latest forecast videos and live severe weather coverage, and set customized alerts to keep you and your family informed and safe.