News
Rain and snow roll back into KAKEland
Tuesday, January 17th 2023, 5:57 AM CST
Rain showers continue to spread across Central Kansas and light snow falling for Northwest KAKEland. This activity will continue with the potential for areas of heavier snow for Northwest and North Central Kansas through the morning and continuing into the afternoon. There will be areas of wintry mix consisting of sleet and possibly freezing rain before transitioning to all snow. Again this will be mainly for North Central Kansas. Wichita will not be dealing with any wintry precipitation as our temps remain well above freezing. 
Snow totals as of 5:00 AM
| | |
| --- | --- |
| Saint Francis | 4.0" |
| Atwood | 3.0" |
| Oberlin | 3.0" |
| Goodland | 1.9" |
| Colby | 1.0" |
Meteorologist Cameron Venable is in Northwest KAKEland with a look at road conditions. Partially to mostly covered roads are what he is seeing with many slick spots. For current road conditions you can visit KanDrive.com or download the KanDrive app.
An area of low pressure impacting California and the Four Corners Region will eventually roll into KAKEland, bringing beneficial moisture in the form of rain, ice and snow. 
  Clouds will be on the increase through the day Tuesday, with rain and snow arriving after sunset for Western Kansas.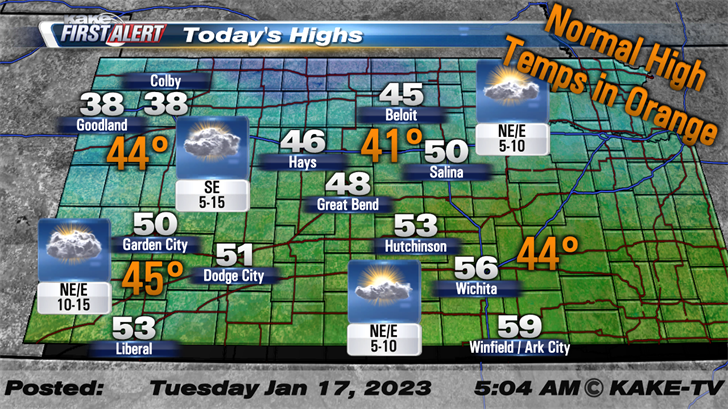 Models continue to paint the picture of the heaviest snowfall in far northwest and north central KAKEland with anywhere from 3 to 6 inches possible for the extreme NW. Some very isolated heavier snowfall amounts possible, but most of the heaviest snow will remain out of KAKEland and across Nebraska.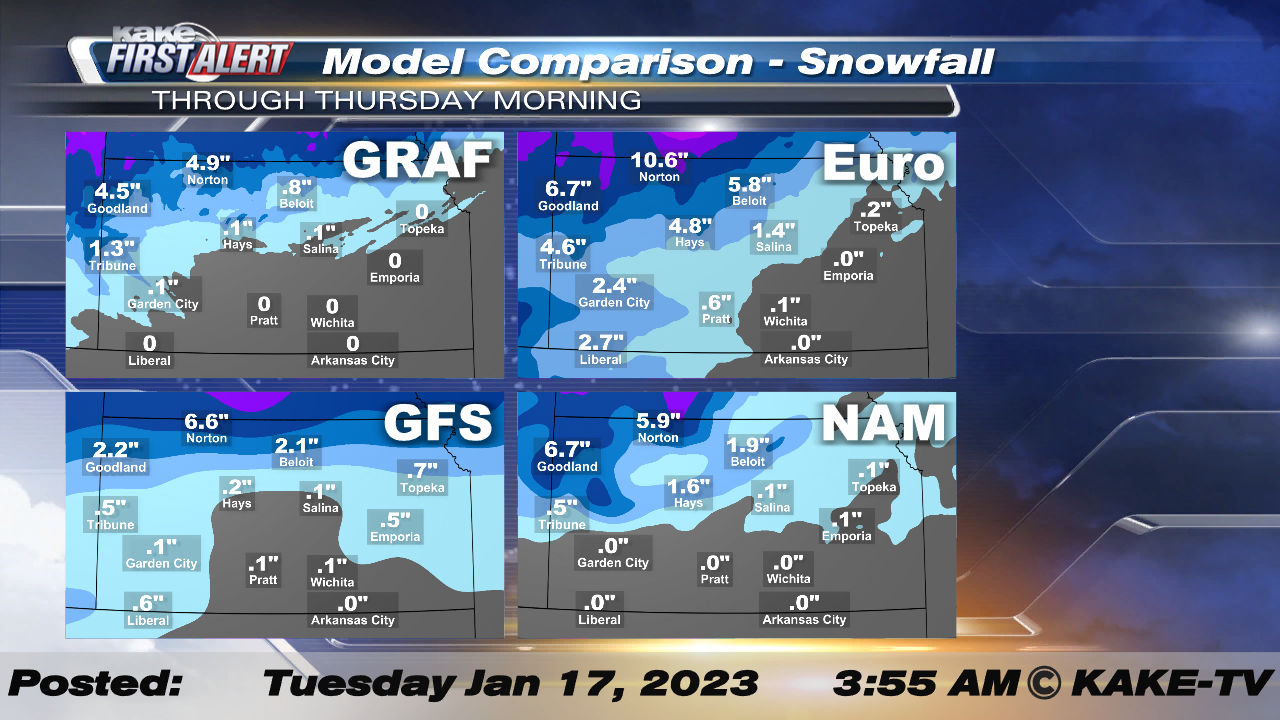 Our partners at the National Weather Service created the graphic below showing the likelihood of at least 4 inches of snow. In agreeance with model data and our forecasts, the further northwest you travel, the more likely you are to see accumulations of at least 4 inches.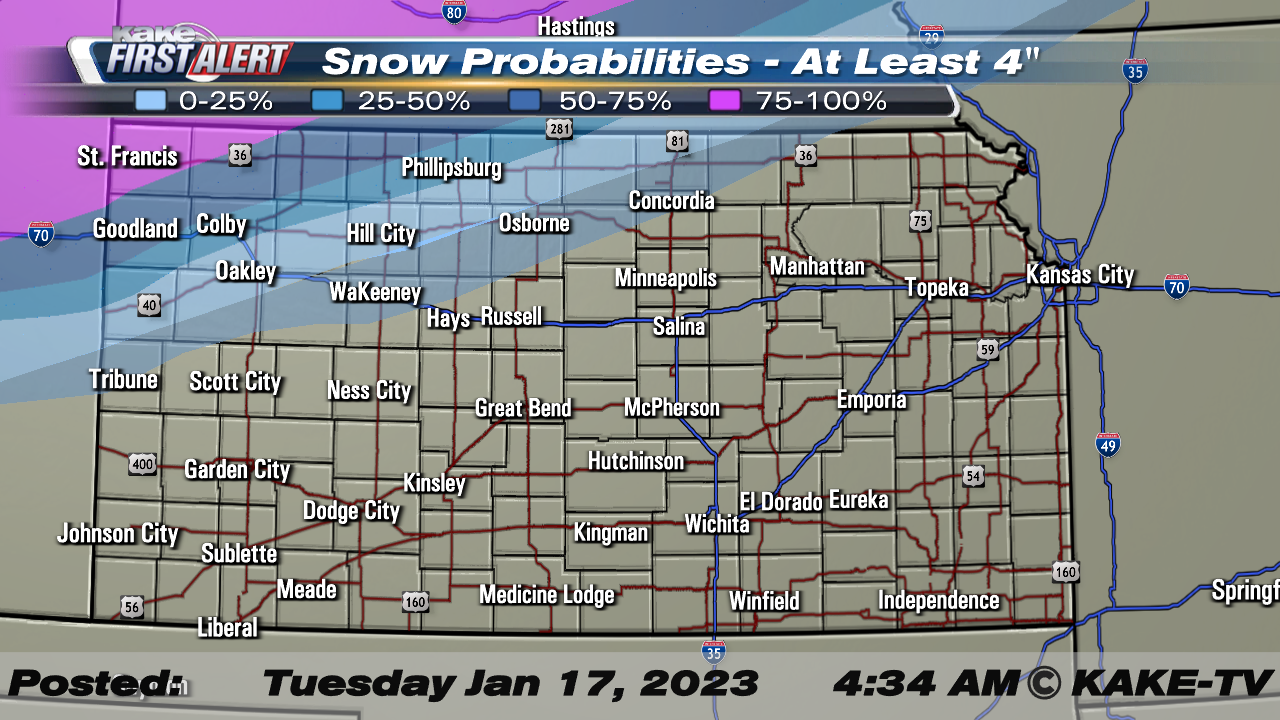 This will be mainly a rain event for the greater Wichita area. Rain showers, with the potential for some rumbles of thunder, begin to move into southwest KAKEland and spread to the northeast overnight into Wednesday morning. Temperatures remain above freezing for south central Kansas, so snow or ice are not of concern. However, we may see a wintry mix, potentially even some light ice for north central KAKEland. Activity will linger for most of Wednesday but will be out of the area by Wednesday night into Thursday morning.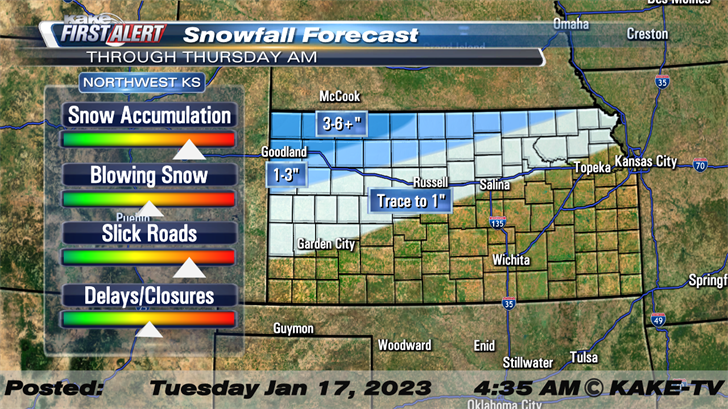 Again, no snow impact for south central KAKEland, but moderate impacts for Northwest Kansas as accumulating and blowing snow will likely cause reduced visibilities and drivers should anticipate slick and snow packed roads. Some schools delays/closures are likely Wednesday morning. Monitor the school status HERE.
Another rather "warm" afternoon for us across KAKEland today, at least for this time of year. Temperatures will be above average with highs in the 50s for northwest KS to lower 60s for south central. Another mostly sunny day with dry conditions. Winds will be a bit lighter today, but still breezy around 10-20 mph.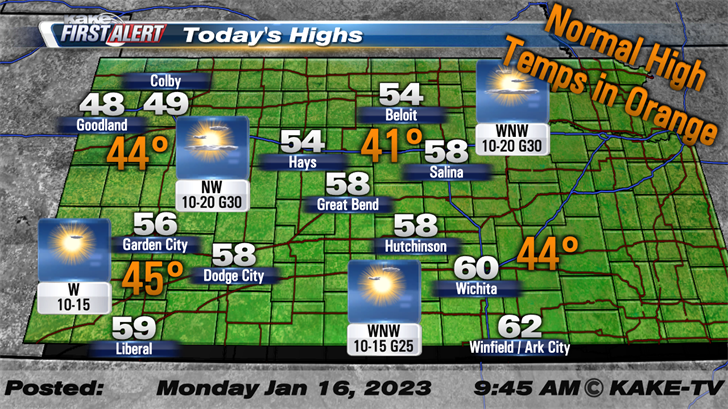 Our next storm system will move in from the west late Tuesday. This will be mostly a rain event for KAKEland but far NW Kansas will see some snow. Showers will begin to spread into central KS early Wednesday with chances for rain lingering into early Thursday morning. Although most rain will be light, there may be some areas of moderate to heavier rain as well as a chance for a few rumbles of thunder. 
Models have backed off a bit on the amount of snow for NW KAKEland as well as taking the system a bit more to the north. Data does continue to hint at anywhere from a few inches to half a foot of snow for the very far northwest portion of Kansas. Measurable snowfall becomes less likely the further south you go.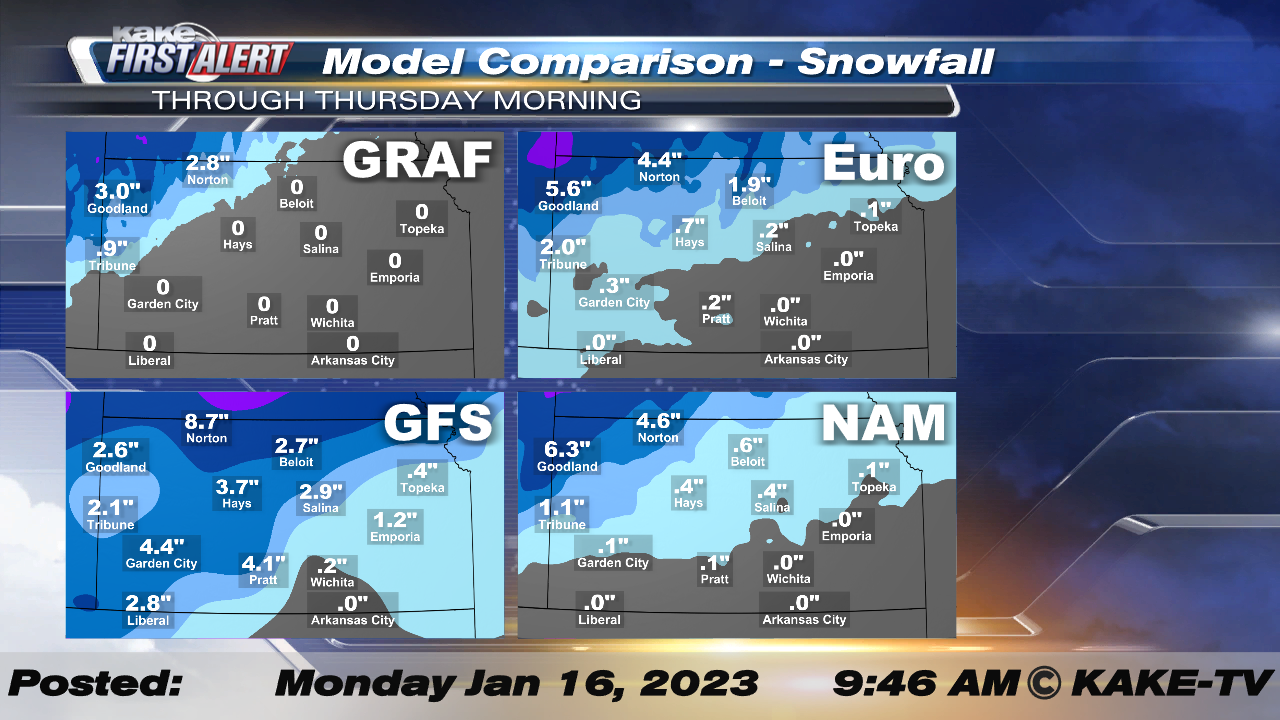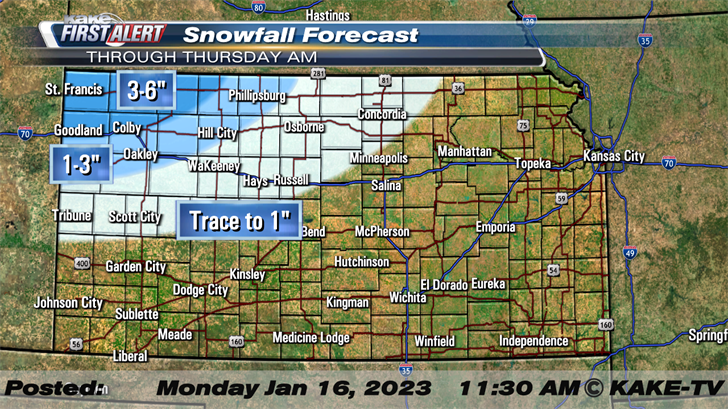 Overall, impacts look to be slim and isolated to the far northwest, but some roads may become slick with rain and/or snow and reduced visibilities. 
Temperatures will be much cooler behind this system so enjoy the nice weather for now. Highs in the 30s to 40s for the rest of the workweek and into the weekend. We are watching for another storm potential moving through this weekend. Still too far out to talk much about, but more details will come from the KAKE First Alert Weather team as we get closer. 
We'll keep you up to date with our Interactive Radar and LIVE weather coverage. Get those features and more on the free First Alert Weather App. With the app you can track storms in your area, stream the latest forecast videos and live severe weather coverage, and set customized alerts to keep you and your family informed and safe.
Check Wichita road conditions road conditions across the state at 
KanDrive.org
 . Check road status and conditions for Colorado at 
COTrip.org
 .