News
Kansas girl, grandma donate $1,500 in gifts to Toy Mountain
WICHITA, Kan. (KAKE) - You may be hard-pressed to find a better toy expert than little Makayla. Surrounded by a room packed with race cars, puzzles, and Barbie dolls, she inspects each package – just as any four-year-old would.
She's not at a store. She's at grandma's house. Out of the hundreds of gifts, none of them are for her. They're contributions from friends and family to give to kids in need.
"She would go with me in the morning to go purchase dolls with the donations that people had sent cash-wise to us to purchase dolls, said Grandma Angel Stephens. "So, she would help me with that helped me organize first they were in my home office."
Angel's office soon was stacked with so many toys, they had to move them to her living room. Her granddaughter helped make sure more were arriving.
"Makayla was really excited about all the dolls that were coming in, and so she started telling everybody why we were collecting dolls."
"Can you tell me why we decided to collect the dolls? Angel asked Makayla. "Who are we going to give all the dolls to?"
"The girls that don't get dolls," Makayla replied, grinning big.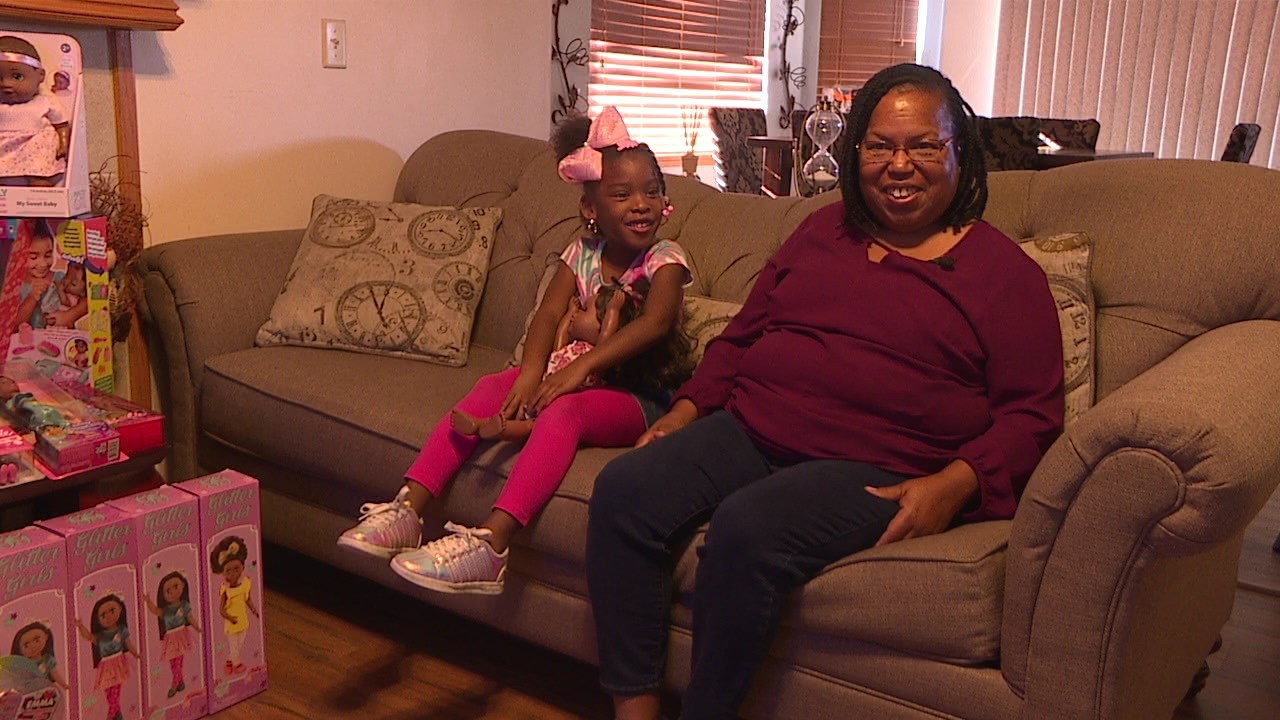 The family was motivated to help with KAKE's Toy Mountain – a collection drive to support children through the Salvation Army. The drive ends Friday, Dec. 2. So far, the Stephens have collected more than $1,500 in gifts. It means a lot to them.
"We grew up very poor. My husband and I both did as kids, so we know what that's like. So, as adults when we got to that age where we could be able to help we've always given back to the community."
One of the biggest motivations for the family was to make sure that each child, especially little black girls, are represented. Having a doll that looks like a child can make mean a lot, Angel said, as the representation is often lacking.
"God put it up on my heart to make sure that I had did what I said I wanted to do a couple years ago before the pandemic. When I helped at the Salvation Army, was to make sure that there was dolls that represented the African American community."
When sharing the information online, she said she knew her heart was in the right place, especially after she got a note on Facebook. "You know, even one of my nieces said sent me a message that I needed, that 'one looks like me.' It's been very rewarding to know that there's going to be dolls out there for the community."
Even with this goal, the family has toys representing everyone. Their family is made up of people of all races and backgrounds. After they started getting the doll donations, Angel said her grandson chimed in to make sure boys had proper gifts, like Hot Wheels and Monster Trucks.
"It just does our heart good to know that there's kids out there that need help and that we're going to be able to help them."
In addition to the donation, Angel's family said they hope to continue this tradition each year. They also plan to volunteer, as a family, to help the Salvation Army this season.