News
National FOP calls out Wichita mayor over heated exchange with police officer
Thursday, October 13th 2022, 5:26 PM CDT
WICHITA, Kan. (KAKE) - The National Fraternal Order of Police have called out Mayor Whipple in a tweet you can see below saying "Rules for thee, not for me."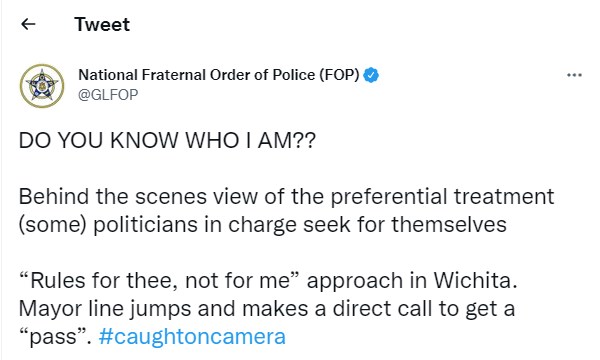 KAKE news has obtained body camera footage of an interaction between Wichita Mayor Brandon Whipple and a Wichita police officer at a community cleanup event on September 24.
The 11-minute body camera video shows the officer taking the Mayor's ID and stopping him from dumping his truck while the mayor calls city manager Robert Layton to file a complaint over the officer's conduct. While the heated exchange was caught on camera, the mayor claims it's not the full picture of what happened.
"I wound up getting just stopped by the officer who was probably about 20 feet from me, and just berated by, like what I guess what he interpreted as, as wrongdoing." 
Whipple says what prompted him to call the city manager was the officer yelling at him. 
Whipple also admits he went through the wrong entrance because he thought there was a car wreck holding traffic and that he was not trying to cut in front of others. "I was showing up at a neighbor clean up like I've been doing for years, my goal was to drop off a few things, go out, shake hands with volunteers pass out some air coins, and just thank people for their service."
President of the Wichita Police Union David Inkelaar says the officer claims he was yelling to get the mayor's attention. "The officer is running from over here and he's telling he's trying to get the the end of it. He has no idea who who's in the truck and he has loudly saying stop, stop because they are not taking any more stuff because the dumpsters are full."
Whipple says he thought the incident was one big miscommunication at the time. Even later on in the video, he offers to leave with his stuff. "I wasn't trying to present myself as mayor, or as like a power trip here."
Whipple says the incident has led him to want to take a closer look at the police department's body cam policies to make sure entire interactions are being recorded. "I get why, you know why it looks the way it does, because it's missing a big chunk of that video."
Inkelaar says from the video and his perspective, the officer handled himself well and he says he wishes the mayor just didn't go after him so quickly. "I would have hoped that the mayor would have called that officer, it could have been a day later, it could have been a couple of days later and just sat down and said, hey, this is what happened. I would like to see your perspective."
Wichita police also releases a statement on the issue to KAKE News saying:
"The Wichita Police Department (WPD) is aware of an incident that occurred on September 24, 2022, in the 3800 block of S. Meridian, involving Mayor Brandon Whipple and one of our officers. Executive staff have reviewed the Axon Body Camera footage and agree with former Chief Moore's assessment that the officer acted in accordance with WPD Policy and Regulations. At this time, there will be no internal investigation regarding our officer's actions."