News
Two charged in fatal Old Town shooting
Sunday, August 14th 2022, 10:23 AM CDT
WICHITA, Kan. (KAKE) - Christopher Dyas and Sequorea Sweeney made their first appearances in court today after a shooting in Old Town took the life of 22-year-old Deandre Greenley.
Dyas has been charged with first-degree murder and Sweeney was charged with obstructing apprehension or prosecution. 
The Wichita Police Department has arrested two people related to a shooting in the Old Town area early Sunday morning.
According to a release, 21-year-old Christopher Dyas and 24-year old Saquorea Sweeney, both of Wichita, have been arrested for 1st degree murder for a shooting that left 22-year-old Deandre Greenley of Wichita dead.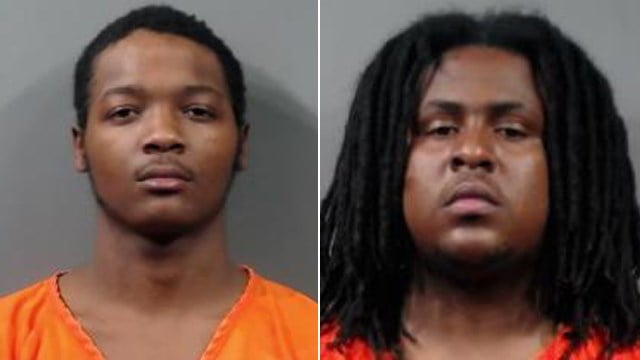 At approximately 1:35 a.m., officers working in the Old Town area heard gunshots just north of 126 N. Mosley, and then, moments later, more gunshots from the area of 100 N. Washington. When officers arrived at N. Washington, they found Deandre unconscious and not breathing. He had also been shot several times. Despite lifesaving efforts, EMS pronounced him dead on scene.
An investigation showed that Sweeney and Dyas arrived in a black 2008 Ford Edge. They walked up to Deandre and shot him several times, then fled the scene. Officers quickly determined the suspect vehicle from witnesses and cameras located in Old Town. Additionally, the usage of automated license plate recognition technology also helped.
Shortly afterward, both Sweeney and Dyas were taken into custody without incident. 
The Wichita Police Department is searching for a suspect following a deadly shooting early Sunday morning in Old Town.
Around 1:30 a.m., a shooting took place outside of a club in the 100 block of North Mosley. When officers were called to the scene, the victim had critical injuries, Sedgwick County 911 dispatchers confirm. However, Wichita Police detectives said a 22-year-old man succumbed to his injuries from the shooting.
The investigation is ongoing. Anyone with information on the shooting should call Wichita Police or Crime Stoppers at (316) 267-2111.
This marks the second deadly shooting in a year in Old Town. In September 2021,  a man opened fire outside of the Enigma Club & Lounge. Keshawn Dawson was arrested as the suspect in the shooting. This spring, a judge ruled there is enough evidence for the 23-year-old to stand trial in the shooting death of one person and wounding of six others at Wichita nightclub last year.