News
In-person enrollment begins for USD 259, change to free meals
Monday, July 25th 2022, 7:20 AM CDT
WICHITA, Kan. (KAKE) - In-person enrollment kicks off Monday for families in the Wichita Public Schools district.
Parents have the option to enroll their kids through the online portal, ParentVUE. 
Coming in-person gives parents the option to get any questions they may have answered, students can get their IDs and high school students can get their parking spaces assigned to them.
Parents won't notice any changes to enrollment, but they will notice a change to the free meals that have been offered the past two years.
Federal guidelines directed districts to offer free meals because of the pandemic, but Congress did not extend the school meal waivers for the 2022-23 school year.
Wichita Public Schools will offer free breakfasts for all grades in the district, but families will need to pay for lunches.
The prices vary from $2.60 per day to $2.90 depending on what grade a student is in.
Families can qualify for reduced lunches that cost 40 cents per day.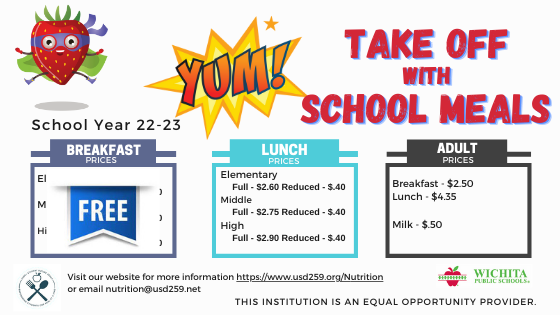 "We want to encourage families to do that as soon as possible so that they can start taking advantage of if they qualify, take advantage of those free or reduced price lunches, which also does reduced priced fees for enrollment," said Susan Arensman with the Wichita Public Schools.
In-person enrollment is happening Monday and Tuesday from noon to 7 p.m. and Wednesday from 8 a.m. to 3 p.m.