News
Kansas Attorney General candidates square off in Overland Park debate
OVERLAND PARK, Kan. (KAKE) - Three Republicans are trying to convince voters they're the right person to be Kansas' next
Attorney General.
They faced off Wednesday in Overland Park in front of their peers, members of the Johnson County Bar Association.  They answered questions ranging from Critical Race Theory to the fight over abortion rights and regulation in Kansas.
"I will be standing at the podium defending Value Them Both," Tony Mattivi, former Assistant U.S. Attorney for Kansas said.
"I will aggressively defend Value Them Both," Kris Kobach, former Kansas Secretary of State, said about the proposed amendment.
"I helped put Value Them Both on the ballot," Kansas state senator Kellie Warren added when her turn came.
These three candidates had a lot of the same ideas Wednesday on the issues the next Attorney General will likely face.
"The Office of Attorney General does have a role to play in fighting Critical Race Theory," Warren said. "We have to be vigilant against it.  As a state senator and chairman of the Senate Judiciary Committee, I am the person on this stage that has had to vote on that and try to get that passed."
"Personally, I'm opposed to the idea of Critical Race Theory," Mattivi said.  "But I'm not running for Attorney General to further my personal political agenda.  I'm running…to represent the citizens of the State of Kansas. I'm not going in there to be an idealogue, but I am going in there to protect the constitutional rights of our citizens and I agree that that's the way you go after an issue like that."
"More than just urging people to stop Critical Race Theory," Kobach said.  "I have drafted a bill, personally, myself, with my own keyboard… portions of that bill were incorporated into a bill that was in the Kansas Legislature this year."
But they still found plenty to go on the attack about beginning with Kobach's loss four years ago to Governor Laura Kelly, a point Warren hit on several times.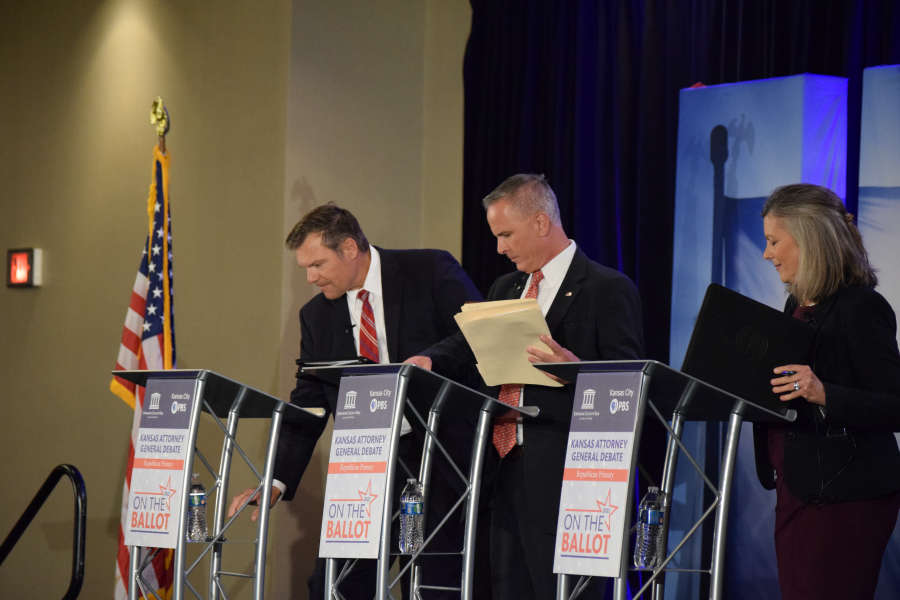 "We could not get protection for our school children against Critical Race Theory in Kansas because we have a 2018 loss as Republicans to a Democrat governor. So, it's important that we nominate the person who can win in November," she said at one point.  Adding later, "Talk about an itty bitty, teeny weeny senate district?  Well, guess what, I won my election. He lost his."
Kobach firing back, "Polls currently show me beating the Democrat in this race by a sizeable margin. With regards to 2018, anybody who follows political history knows that 2018 was a bloodbath for Republicans."
"I am the Kansan, the Republican, conservative Kansan who runs best against the Democrat," Mattivi said.
The other big theme running through this debate, the question of experience and what sort of experience is best for someone seeking the job of Attorney General.
"I am the outsider. I am the prosecutor and not the politician," Mattivi said.  Adding later, "My decisions as Attorney General are not going to be made based on what gets me on Rush Limbaugh or what gets me on Fox News."
All three telling me after the debate that, despite the attacks we saw, debates like this are important in helping voters make a decision.
"I actually think that debates make a difference when television stations cover them, because usually it's just a couple hundred people watching the debate," Kobach said.  "But it needs to be a couple hundred thousand Kansans seeing what was said at the debate."
Warren said she thinks the debates have helped boost her campaign. 
"We're gaining support from voters and businesses, industry leaders across the state," Warren said.
"It's just like trying a case to the jury," Mattivi said.  "You want the jury sitting in the box nodding their head when you make your best argument. And that's what's been happening."