News
Suspects accused of abducting 5-year-old son jailed on kidnapping, drug and gun charges
Friday, May 20th 2022, 10:59 AM CDT
NOBLE COUNTY, Okla. (KAKE) - The 31-year-old woman and 33-year-old man accused of abducting their 5-year-old son from a southern Kansas elementary school's daycare, prompting an Amber Alert, face a number of charges in Oklahoma, including kidnapping, drug and gun possession.
The boy was found safe in Noble County, Oklahoma, Thursday night. Danielle Banzet, his mother, and Zachery Sisk, the boy's father, were taken into custody.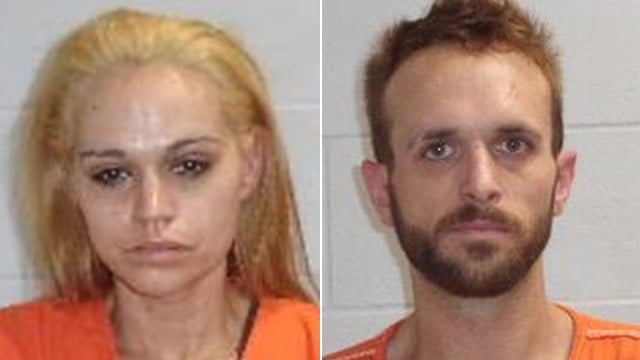 Booking reports from the Noble County Sheriff's Office show Banzet and Sisk were each jailed for:
kidnapping
convicted felon carrying a firearm
transporting a loaded firearm
using a firearm or other offensive weapon while committing or attempting to commit a felony
possessing a controlled dangerous substance
delivering possessing or manufacturing paraphernalia
The Kansas Bureau of Investigation said Banzet entered the Rose Hill Elementary School's daycare posing as a social worker Thursday afternoon. She took her son and got into a black SUV with a man.
Later Thursday evening, the KBI said the suspects had switched vehicles and were in a 2010 Volkswagen Jetta, which was later found abandoned in rural Cowley County. The suspects and boy were located on I-35 in Noble County by the Oklahoma Highway Patrol.
The KBI said Banzet's parental rights had been severed by the court and that actions prior to the abduction, including threats of violence, indicated her son was in danger. The boy has been in foster care. 
The Butler County Sheriff's Office did not state when Banzet and Sisk would be extradited.
Matt Neal, the Rose Hill school district police chief, said the district is investigating exactly how the child was taken from the school.
According to Sedgwick County booking records, Banzet and Sisk were arrested in the 4800 block of South Broadway on April 6. Each was booked for criminal carrying of a weapon, criminal use of weapons, drug distribution, and possession of drugs and paraphernalia.