News
Tornado devastates Andover, only minor injuries reported
Sunday, May 1st 2022, 9:47 AM CDT
ANDOVER, Kan. (KAKE) – On Sunday morning, the city of Andover released a statement about the impact of the tornado on the community. 
It was confirmed that no deaths and only four injuries occurred since the time of the storm.
"We have been getting a lot of questions about what the community needs," said City Administrator Jennifer McCausland. "We know many want to help and we are grateful. We will keep you posted on ways to help soon on the City of Andover main Facebook page."
Butler County Landfill in El Dorado located at 2963 SW 40th St. El Dorado, KS will offer extended hours and will waive fees for debris cleanup related to the tornado/storm event.
The release says to keep an eye on the City of Andover Facebook pages for the most current updates.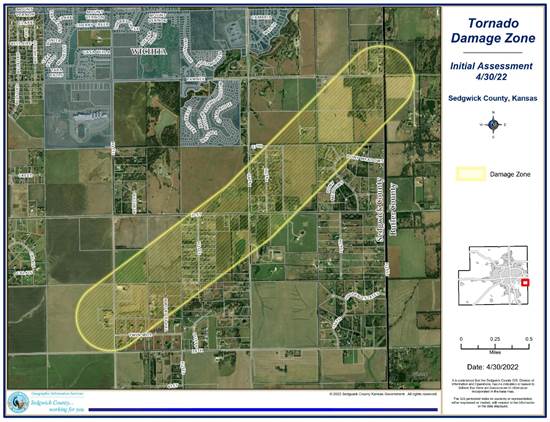 A GoFundMe has been created to support the people who have been affected by the Andover tornado. 
The Andover Deputy Fire Chief took questions from the media around noon. He confirmed about 200 hundred active responders from 30 different agencies are dealing with the aftermath. 
While at the beginning there were 15,000 people without power, that number is now down to 1,200. 
Sedgwick County has said that disaster response has moved from St. Vincent de Paul to Wheatland Elementary School located at 15200 E 21st St N, Wichita, KS 67230.
The Andover Fire Chief held a press conference morning to discuss the of the tornado. They confirmed that they have no reports of fatalities.
"What we need from you right now is we need everyone to stay away the area please," Fire Chief Chad Russell said. 
The city of Wichita released a statement this morning with an update on their storm response. They say that WPD and WFD were sent to assist Sedgwick County Emergency response after the tornado hit Sedgwick and Butler Counties.
"At this time, no significant injuries have been reported, the release said. "Crews remain on site and on standby to assist with recovery efforts as needed."
According to the Kansas Department of Transportation, U.S. 54/400 is closed from 159th on the west to Santa Fe Lake Road on the east. Traffic is being diverted.
They say it is not clear how long the closure will last.
In a news briefing, Andover Fire Department Chief Chad Russell said a tornado touched down in Sedgwick County and traveled into Andover. A reported 966 buildings were in the path of the tornado it is still unclear how many of those buildings are damaged, however crews did confirm city hall received damage.
So far there are no rescues outstanding. Crews have finished their primary assessment and will now begin their second assessment which is expected to be concluded by Saturday morning.
Butler County EMS says they received five patients, two of which were firefighters, one was transported to the hospital with minor injuries. There have been no reports of serious injuries in Butler County.
Sedgwick County EMS says they received three EMS calls, one patient did have serious injuries, and two had non-critical injuries.
Emergency crews are asking everyone to stay out of the impacted area to allow crews to finish their assessment.
Evergy reports that 8,878 customers are without power in Andover. The outages stretch from 21st North to Pawnee. 
According to a statement by Sedgwick County, damage is still being evaluated after severe weather in southeast Wichita/Sedgwick County. Only minor injuries have been reported at this time. The Sedgwick Count Fire Department has deployed Taskforce 5 to support Butler County and Andover Fire Department. 
Countryside Vet Clinic at 1936 N Andover Road will kennel pets for free for those who have been impacted by the tornado from 9am-12pm Saturday.
The Andover Police Department says anyone in Andover are who needs shelter can got to St. Vincent De Paul Catholic Church at 123 N. Andover Road.  Andover police is also asking people to avoid the Andover area to allow emergency responders into Andover and Butler County without interference. 
United Way says anyone impacted by the storm and needing shelter can call 211 for shelter information. 
Governor Kelly signs state of disaster emergency declaration effective 8:57 p.m. The declaration activates the disaster response and recovery portions of the Kansas Response Plan, authorizing state resources to augment local jurisdictions with response and recovery efforts in areas impacted statewide. The State Emergency Operations Center has received several reports of and on-going efforts for search and rescue as well as damage assessments. Power lines, homes and outbuildings have been reported as preliminary across numerous counties. Storms are ongoing so most of the assessments are too early to detail currently.
The Greater Wichita YMCA released this statement:" The Andover YMCA suffered significant damage as a result of the storm that hit the Andover area this evening. We are thankful that all of the staff and members that took shelter at the branch at the time of the storm, were not injured. The branch will be closed until further notice. We will keep everyone updated as details become available."
Wichita Mayor Brandon Whipple released this statement regarding the Sedgwick County Emergency Operations Center: "Chief Moore has informed us that Sedgwick County Emergency Operations Center has been activated to assist Andover. All Wichita Police Command have been directed to assist with emergency management. PLEASE stay off the streets if possible for our emergency vehicles." Whipple also said that the Wichita Fire Department Chief Snow is leading the city post at the Emergency Operations Center. Around 50-100 structures are damaged. 
A verbal declaration of emergency in Sedgwick County. Emergency Operations Center and the Local Emergency Operations Plan. This declaration will help facilitate state aid.
Evergy has reported around 5,574 customers are without power in Butler County and around 7,563 customers are without power in Sedgwick County. 
KAKE News reporters in the area report that apartments near the Andover YMCA area where hit. Emergency vehicles in the Andover area.
Andover Police report that the Dillons in the area was not hit, several homes and apartment were hit in the area. There have been no reports of injuries at this time. There are also reports of golf size hail in the Andover area.
In Wichita, wind damage have been reported Harry between Edgemore and Woodlawn.
Multiple tornados touched down around KAKEland Friday.
Just before 8:30 p.m. Friday reports came in of a tornado in Andover. Viewers in the area reported significant damage to the Andover YMCA. There are reports of power outages in the Andover area.
There have been no confirmed reports of injuries at this time.
KAKE News has several crews headed to the Andover area and will bring you the latest.