News
Loved ones identify 6 teens killed in Oklahoma crash
TISHOMINGO, Okla. (KAKE) — Family and friends have identified six teenagers who were killed when their small car collided with a large truck hauling rocks in southern Oklahoma.
The Tishomingo High School students — all between the ages of 15 and 17 — were Madison Robertson, Memory Wilson, Addison Gratz, Gracie Machado, Austin Holt and Brooklyn Triplett.
Tishomingo Public School Superintendent Bobby Waitman said the six were on a break for lunch at the time of the crash, which occurred Tuesday about a mile from the high school.
The NTSB said the four-seat Chevy Spark failed to come to a full stop before entering an intersection where it was hit by a large truck hauling rocks. The southbound semitrailer struck the left front of the eastbound vehicle carrying the girls and both vehicles departed the roadway. The truck driver was not hurt.
Brooklyn Triplett "was a loyal friend and one hell of a ball player!" a parent of one of Brooklyn's friends said on a GoFundMe for the girl's family. "She will be missed deeply." 
Austin Holt, 15, "was a great big sister to my daughter and I know Joy will never forget her," said Natalie Houston, who said Austin was her daughter's foster sister.  "She was a gorgeous intelligent young lady." 
Madison Robertson's aunt said, "I'll be forever grateful that I got to see your smile, know your kindness, and that I could call you my niece."
Gracie Machado's sister called her "my best friend," and another relative said "we will never forget you."
Memory Wilson had "the biggest heart of gold, one family friend said.
Addison Gratz's grandfather said, "I need your prayers for the will to keep living. I WILL SEE YOU REAL SOON ADDISON JOE GRATZ!!!"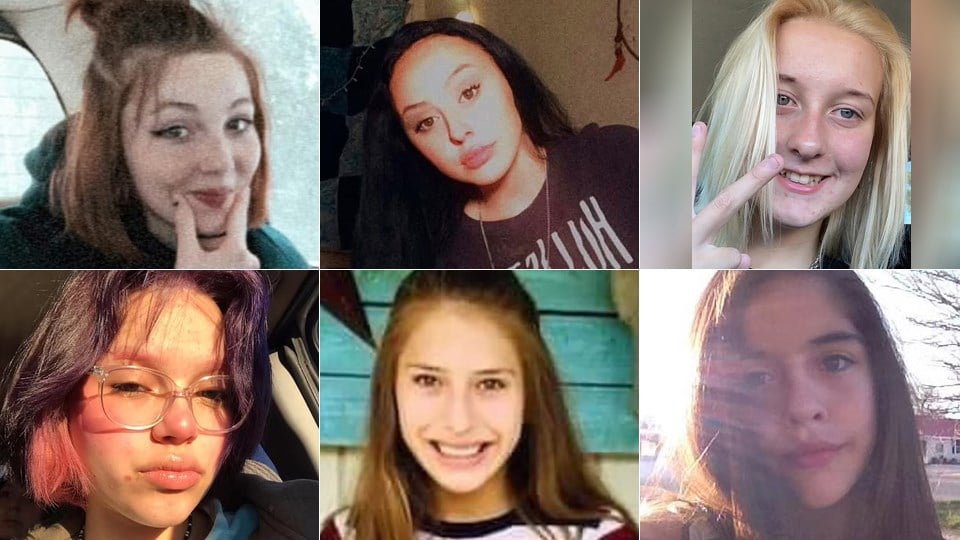 Top from left: Madison Robertson, Memory Wilson, Addison Gratz | Bottom from left: racie Machado, Austin Holt and Brooklyn Triplett (courtesy photos/Facebook)
The Associated Press reports a memorial service for them has been scheduled at the school on Friday night at the football stadium. Flags outside local business were flown at half-staff in their memory.