9 Luxury Showers to Add to Your Bathroom Re-design
Posted: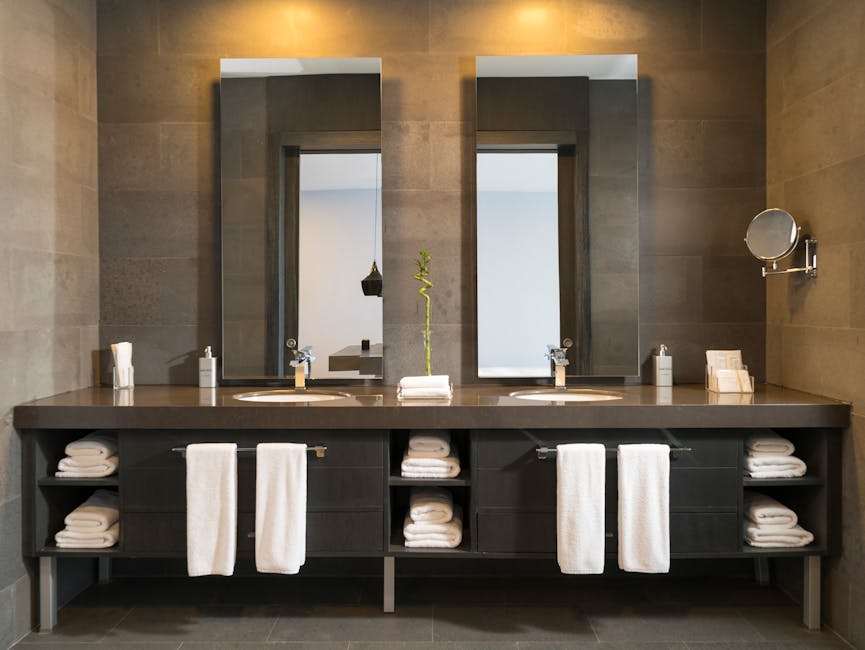 Originally posted on http://www.kake.com/story/40957195/9-luxury-showers-to-add-to-your-bathroom-re-design
Showering daily is a relatively new concept. But already, it's hard to imagine not showering every day — or at least close to it. And since it's a ritual you do on the daily, why not make showering a luxurious experience?
A luxury shower can turn this daily chore into an inviting moment of relaxation. With a high-end shower, you'll actually look forward to scrubbing down. Whether it's how you start your day or how you unwind at the end of it, showering can become a beautiful thing.
Need some luxe shower inspiration? We've got you covered. Check out these inspiring ideas for your new luxury shower design, and get ready to pamper yourself.
Stylish Marble
Marble isn't just for floors and countertops. A shower made of marble will elevate your bathroom into luxury. And with so many different marble colors to choose from, you can easily find a shade that will match your decor.
Roman Arches
To take the old-world glamour of marble up a notch, or to elevate any other material, try adding Roman-style arches to your walk-in shower. Arches are simple, yet unexpected in your bathroom, so they'll give a unique look to the space.
Subway Tile
When you think of riding the subway, you might not imagine the pinnacle of luxury. However, subway tiles actually lend a clean, luxe look to your shower.
Subway tile isn't just a name — it actually refers to the tile type first used in the New York City subway. The designers needed to come up with a design that would look clean, bright, inviting, and neutral to all passengers. With that in mind, it's no wonder the tiles they designed are now so popular for home interiors.
They look especially great in neutral shades like gray or off-white. However, you can also find subway tile in colors that will match any decor scheme at all.
Multiple Showerheads
Don't stop at one showerhead — or even two. In a luxury shower, the more shower heads and sprayers, the merrier.
Fancy showers tend to be bigger than their utilitarian cousins. With all that extra space, why not add extra sources of water? In addition to separate overhead showerheads, you might want to add a handheld sprayer or even body sprayers on the walls.
Of course, you don't need all of these luxe touches to get clean. But they will make every shower more fun and exciting.
Beachy Touches
Even when you can't have your toes in the sand, a beach-inspired shower can help you reclaim that feeling of being on vacation.
You can opt for tiles in oceanic blue-green colors to capture a sense of the sea. Or, you can try a textured beige finish to evoke the sand. Warm, bright yellows will inject your shower with a feeling of seaside sunshine.
Don't want to spend on light-colored tiles that will be hard to keep clean? Waterproof PVC shower panels come in a variety of hues to give you a similar effect for far less money and effort.
You can also combine more than one of these beachy ideas in any way that suits your style. Beach-themed bathrooms are nothing new, but a beach-themed luxury shower makes the idea feel fresh.
Seating Options
How many times have you wished for a bench in your shower? A place to sit makes it that much easier to shave, exfoliate, apply in-shower lotion, and more. A large luxury shower makes it easy to install seats.
Industrial Charm
Today, industrial touches are still going strong in modern home design. You can take this style far beyond an exposed-brick living room. Why not try an industrial-chic shower?
We love corrugated metal as a creative way to get this look. You can also use other industrial materials, like a concrete floor or brick tile, to make your modern shower complete.
Moody Dark Tones
Light, bright colors often work well for bathrooms. However, a moody shower in dark shades like gray or even black can also suit a modern-style home well.
Go bold with a daring shower in matte, dark colors. Clean lines and simple palettes tend to work well with this style. However, you can also break up the look with an accent color if you choose.
Inset Tile
You can accent the overall shower tile with a tile inset in a contrasting shade. Even a simple square design will look striking with this technique. The contrasting tile becomes almost like a work of art hanging on the wall of your shower.
Tropical Plants
Houseplants have become a mark of luxury that anyone can afford, whether you live in a condo in the city or a big house in the suburbs. But houseplants in the shower? We say yes!
Many tropical plants love the warm, humid environment created by a bathroom. While this idea might be best-suited to outdoor luxury showers, we see no reason not to install a few luxe plants indoors, too. Just make sure they have access to plenty of sunlight!
Rustic Vibes
In a rustic home, it can seem difficult to translate the natural energy of leather, stone, and wood into the bathroom. But you can make a luxury shower look rustic, too.
Start with a palette of warm, earthy tones. Then, opt for natural materials, like natural stone and wood accents. You'll soon have the perfect rustic shower to match the rest of your home.
In-Shower Television
With a large enough shower, you can actually hang a flat-screen far from the stream of water. You'll have that much more time to catch up on the latest episodes of your favorite show in style.
Which Luxury Shower Design Will You Choose?
These luxury shower ideas will get your creativity flowing, but there are countless more options you can try. Your shower doesn't have to be a practical part of your home. Instead, it can be a luxurious element that syncs perfectly with your living space.
Ready to inject the rest of your home with the same luxury feel? Check out our cooking section next to upgrade your kitchen with our glamorous recipes.
Information contained on this page is provided by an independent third-party content provider. Frankly and this Site make no warranties or representations in connection therewith. If you are affiliated with this page and would like it removed please contact pressreleases@franklymedia.com